December 30th, 2009 by
admin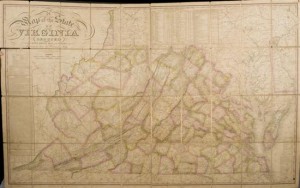 FALLS CHURCH, Va. – A map that was purchased for $10 at a northern Virginia estate sale has guided its owner to a profitable destination at auction, where it sold to an anonymous bidder for $23,400.
 The 1827 map of the State of Virginia, drawn by Herman Boye and engraved by H.S. Tanner and E.B. Dawson, had been tucked inside a box of 10 assorted books and offered at an estate sale for a group price of $10. The buyer, a Virginia attorney who dabbles in books, suspected the map might be valuable and took it to Quinn's & Waverly Auction Galleries in Falls Church, where experts entered it in a Dec. 3 sale with an estimate of $2,500-$4,000.
 "There was tremendous interest in it. Every phone line was occupied by a major book or ephemera dealer," said Matthew Quinn, co-owner of Quinn's & Waverly. "It was a challenge to settle on a presale estimate for the map because there hasn't been another one available in the marketplace in the last 35 years. There's barely even a reference to it on the Internet."
 Comprised of 40 sections, the map is one of only 800 printed for distribution to Virginia's state senators in 1827, with each map representing one of nine geographic regions. The auctioned map depicts the state before the territorial split that resulted in the formation of a new state, West Virginia, and does not include Arlington County, which was still part of Washington, D.C. at the time of the map's publication.
 Based on an inscription inside the cover of its slipcase, the map was originally the property of John Randolph (1773-1833) of Roanoke, Va., who served seven terms in the Virginia House of Representatives.
 Linen-backed and hand-colored, the map details the rivers, roads, towns, county seats, ferries and other natural and man-made points of interest of northwestern Virginia in the 1820s. A population table provides data from the first four U.S. Censuses and lists the number of whites, slaves and free blacks then living in Virginia. Its statistics indicate that at the time of the map's publication, there were 36,889 freed blacks in the state – less than 10 percent of the number of slaves – out of a total population of 1,065,366 people.
 "The map is like an illustrated time capsule of what life was like in Virginia in the 1820s," said Quinn. "You can see from the symbols on the map how important churches and universities were to the people, and how the state's fledgling industries were developing."