June 30th, 2010 by
admin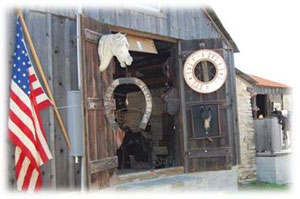 Extreme Sport or Down-Home Fun?
6/30/10 –Round Top, TX – At the Marburger Farm Antique Show in Round Top, there's more than one way to bag the bounty on Sept. 28- Oct 2.
Some shoppers will take off with tape measures, paint colors, designers and lists. Blankets for packing fill their SUVs. Roll'en Hills Moving & Delivery is on their speed dial and lunch is a low priority. Or at least it will be a late lunch, with a Marburger margarita or an iced coffee, re-charging for another assault.
Other shoppers will stroll in, two and three generations together, on vacation, a re-union, a tradition of being together in a beautiful setting surrounded by the top antiques anywhere. Lunch will be lingering over lemonade or a cold beer. The new herd of longhorns at Marburger Farm will delight them. The good prices will surprise them. They too will take home all that will fit. And Roll'en Hills will deliver the rest.
Whether attacking the ten tents and twelve buildings as an extreme sport, or whether venturing in for inspiration and fun, shoppers know that the best antiques, at the best price, in the best displays can be found at Marburger Farm.  With nearly 400 exhibitors from 38 states and countries, there will be plenty of inventory and inspiration to go around.
And this fall there will be more time to find it. On Tuesday, September 28, Marburger Farm will stay open until 7 pm for extended antiques shopping and as a benefit for the Houston Affiliate of Susan G. Komen for the Cure. "We are delighted," says Marburger co-owner Rick McConn, "to partner with this extraordinary organization for the first time."
Also on Tuesday September 28, designer Carolyn Westbrook will sign copies of her new book, The French Inspired Home, (CiCo Press), as well as share tips on "How to Shop French at Marburger Farm." Photographed by Keith Scott Morton, the pages of The French Inspired Home sparkle with Westbrook's finds at Marburger Farm over the years.
"Glorious displays and diverse styles of French," says Westbrook, "can be found at the Marburger Farm Antique Show—- from French Country to the more opulent, sophisticated French, which I love to mix together. My romance with French is fulfilled as I peruse the aisles of Marburger Farm for fabulous finds and great inspiration.
Whether shopping with a list or for leisure, shoppers anticipate new inspiration at Marburger Farm. What inspires a Marburger exhibitor?
"Repurposing inspires me," says Destin, FL dealer Ann Miller Hopkins of Antiques on Holiday. "When we make something out of something else, it's even more interesting— nothing run-of-the-mill." Hopkins will alight with one-of-a-kind European antiques, many re-purposed for the American market such as aviaries made into chandeliers, drums made into coffee tables and garden artifacts for use in the home year-round.
"I'm bringing fantastic mirrors, painted back drops from an old theater, a pair of six-foot tufted leather ottomans from Holland and a large farm table that came from the kitchen of a 19th c. mountain spa in Belgium, with a wonderful wood patina. I'll mix in a little industrial, like movie spot lights, with the fine antiques. What inspires me is layering different kinds of antiques in a room, layering pieces from different generations. It gives a more subtle and rich look, but it's not prissy or pretentious."
Part of the extreme sport of shopping Marburger Farm is the ability to buy the best pieces in the shortest amount of time—and make look like it has been gathered over multiple generations. And for more leisurely shoppers, it's frequently the experience of buying an antique that will indeed be handed down to another generation, perhaps to the baby in a stroller at Marburger Farm.
Willoughby, Ohio exhibitor Marilyn Angel finds inspiration in the re-discovery of antiques by a new generation. "Lots of antiques that were overlooked are suddenly moving fast—like quilts and homey, sweet pieces, pieces with a story." For the fall Marburger Farm show, Angel will offer a collection of gold-filled Victorian jewelry—bangles engraved with romantic names and designs, plus Victorian coral and Persian turquoise. "The younger buyers in Texas are not afraid to spend money on good pieces—and they are not shy about wearing them or using them." Angel will also offer sterling, 1930s cut glass and pottery, such as hard-to-find McCoy umbrella stands. "The young people use them to display huge floral arrangements. I can hardly wait for Marburger Farm. I'm out every day buying for it."
Dealer David Zabriskie of Lake Placid, NY finds inspiration in the splendid buying available in the current economy. "With a down-turn comes opportunity," he says. "It's a good time to buy for everybody. Prices are good. Quality antiques are on the market. I'm buying everything I can. I'll bring a huge load to Marburger Farm. I'll negotiate, I'll sell fairly and I'll go home with a very small load. That's why I'm coming to Texas—Texans like everything."
And everything at Marburger Farm includes inspiration by French, Swedish, Industrial, English, Asian, American or more. It includes art, jewelry, lighting, mid-century modern, folk art, silver, primitives, ceramics, advertising and more. Come to look, to buy, to be inspired and to enjoy a few days antiquing in Texas, whether out for plunder or out for pleasure—or both!
The Marburger Farm Antique Show opens Tuesday September 28 for Early Buying from 10 am until 2 pm for $25 admission. Regular $10 admission begins at 2 pm until 7 pm that day, with extended evening hours to benefit the Houston Affiliate of Susan G. Komen for the Cure. Parking is free and your admission is good all week. Shopping continues on Wednesday, Thursday and Friday from 9 am until 5 pm and on Saturday, October 2, from 9 am until 4 pm. For maps, photos and information on tickets, groups, the Marburger Café, special events (and the Roll'en Hills Moving & Delivery number for your speed dial), see  roundtop-marburger.com.