April 21st, 2011 by
admin
Contributed by www.Marks4Antiques.com – a membership-based service specializing in providing identification & appraisal advice on antiques & collectibles.
Tricia Evans could not wait to get home and rummage through the box-lot she had just won at her local auction in Boston.  It looked like a bunch of old tins and empty metal containers, but she had a good feeling about it.  After all, this is what's it's all about when it comes to treasure hunting and she had only paid $40 for the lot  –  what could go wrong?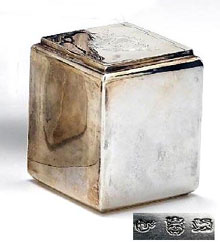 Somewhere near the bottom, she quickly noticed a heavily tarnished metal box in the shape of an almost perfect cube with a hinged top lid.  'That's odd' she muttered, 'what a weird shape for a tin box'.  She took it out and opened the lid.  She is not sure if she screamed because of that huge dead spider – or what was left of it as it was barely hanging from a dusty tattered cobweb – or her excitement from seeing the shiny interior lining of this box and recognizing that it was a Tea Caddy.  She had seen others before, but this shape was certainly news to her.
After the initial shock and with her heartbeat still racing, she spent a good portion of the next two hours cleaning and restoring the appearance of her mystery find and examined it carefully to see if there were any makers marks or Hallmarks.  From years of experience of enjoying and dealing with antiques & collectibles, Tricia knew that these marks have a way of speaking to you and can provide lots of information.
With loupe in hand, she finally noticed three tiny punch marks.  They looked British – oh! wait, perhaps French – she couldn't tell for sure.  Her personal library has about six reference books on silver marks that she had bought for some serious money several years ago, but they seemed too difficult to use these days and she wanted fast and accurate information.  Where do you begin?  At the British section?  The French section?  Maybe these marks are American after all?  Is it Sterling or Silverplate?  How old?  Any value?
Tricia is a member of an online marks identification & appraisal service, www.Marks4Antiques.com.  She quickly entered her password and begun her quest for more information.  It soon became obvious that these marks are neither British nor French and definitely not American.  She used the Gallery Search feature that displays all marks in shapes or letter categories and found two of the marks on her Tea Caddy, but the third looked like a small fish or dolphin – it just didn't add up…
As a member, she knew that she could ask the specialists on the site at no extra charge.  It is part of Marks4Antiques.com's Help Guarantee feature that allows members to send questions if they cannot find a mark or have doubts.  Before she knew it, she received a reply:  her Tea Caddy was Sterling Silver and was made by DINGELDEIN GEBRUDER in Hanau, Germany.  It dates ca late 19thC and the marks she could see were "pseudomarks", in common use by Silversmiths in that region.  Tricia was elated!
She then clicked on the Values4Antiques section and searched for "Silver Tea Caddy".  Images of hundreds of auction records on Tea Caddies popped up and she could select the ones that looked like hers and then view them in more detail.  Tricia relished the thought that she may have stumbled upon a true treasure this time and, more importantly, she now had a fair estimate of what she can expect to sell it at auction.  She contacted her local auction house again and consigned it for sale.
Next Sunday, her Sterling Silver Tea Caddy sold for just under $1,500.