Patek Philippe Ref. 2499 sells for $720k A $4.2m-grossing watch sale has ended 2009 on a high for NY watch sellers Patrizzi & Co
December 24th, 2009 by
admin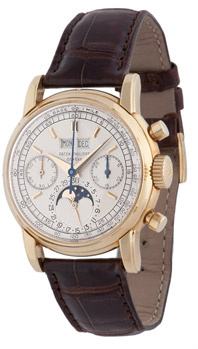 For Patrizzi & Co's final auction of the 2009 calendar year, the watch auction house focussed on collector-level timepieces with just 93 lots.
Patek Philippe Ref. 2499/100
$320k)
Buyers responded positively, with sales particularly strong for Patek Philippe and two exceptional Art Déco clocks.
The auction totalled $4,225,300 with Patek Philippe accounting for more than half the total value.
Including this sale, Patrizzi & Co has finished the year with sales over $34m from a total of eight auctions in New York, Geneva and Milan.
Highlights in New York included two Patek Philippe 18k yellow gold round-button chronographs, Ref. 2499; the model from the rarer Second Series was the top seller of the auction, achieving $720,000, while the other sold for $320,000.
Art Déco clocks created for Black, Starr & Frost, attributed to newly discovered designer Pierre Gravoin, sold for $380,000 and $340,000. American baseball player Lenny Dykstra's 18k white gold Patek Philippe Annual Calendar on a matching gold bracelet sold for $28,000.
Patek Philippe, Genève, Ref. 2499
($720k)
"Bidders definitely raised their prices because of our policy of no buyer's commission," said Osvaldo Patrizzi, chairman and CEO of Patrizzi & Co, in a statement.
"We had many active bidders over the phone and online, particularly from Hong Kong, China, Russia, Italy and the US. The clocks made by Black, Starr & Frost are two of the finest examples of Art Deco clocks reflecting a culmination of jewelry, art, design and technology of their time.
"In addition, the six sets of watch keys sold for more than double their estimate, with three of the six lots selling for more than triple their estimation," he said.
About 80 people attended the auction with another 100 people bidding by Internet, and 60 by phone and absentee bid, with most bids coming from China, Italy, and Hong Kong. Over 66% of the 93 lots sold.
Set of four Patek Philippe Perpetual Calendars, Ref. 3970E ($640k)
Patek, Philippe & Cie, Genève,
No. 112454 ($46k)
In addition to the live and online auction, Patrizzi & Co hosted its first New York silent sale over four days. Timepieces sold from $500 to $25,000, including Patek Philippe, Audemars Piguet, A. Lange & Sohne, Heuer, and pocket watches by Jules Jurgensen and Ekegren, among others.
The new SMS system to notify bidders of competing bids created a lively atmosphere with potential buyers waiting in the showroom with cell phones in hand while watching the results on the computer screen.
However, Patek Philippe seems to create a lively atmosphere at auction, regardless of the technology involved. Earlier this month, the Ref. 3974 sold for a record $1.2m alongside a host of other rare fine watches at the final Antiquorum sale of 2009, also in New York.