1936 Canadian Dot Cent, 1862 Ecuadorian 50 Francos anchor Heritage Auction January NYINC World Coins auction
December 23rd, 2009 by
admin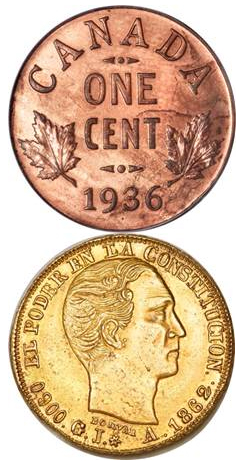 Records stand ready to fall in Manhattan as Heritage readies deepest international coin rarities line-up to date for Jan. 3-4 auction
NEW YORK — The single most substantial collection of Canadian Coins ever offered at public auction, accompanied by what is almost certainly the most famous South American coin of all time, will headline Heritage Auctions' Jan. 3-4 Signature® World Coin Auction, held in conjunction with the New York International Numismatic Convention (NYINC), at the Waldorf Astoria Hotel in New York City. Bidding will take place live at the auction and online (www.HA.com).
"Our NYINC World Coin Auction is, simply put, going to be a tremendous event," said Warren Tucker, Director of World Coins at Heritage, "and is poised to set many records. It will easily be our largest World Coin auction ever by several million dollars. Add to that our Jan. 12 Non-Floor Session, with more than 2000 lots – a record for world coins – and you're going to see an unheard of total for a world coin auction."
The main attraction of the Heritage Auctions' NYINC event is The Canadiana Collection, the finest collection of Canadian coins ever assembled, the sale of which will change the face of the Canadian numismatic market as a host of coins that have not seen the open market in years make their way back into the general coin collecting populace.
The key highlight of The Canadiana Collection is the finest known George V Cent 1936 Dot, KM28, Specimen 66 Red PCGS, Ex: Belzberg (estimate: $300,000-$400,00), the most famous Canadian rarity of all, followed by a stunning MS67 1921 50 Cent (estimate: $200,000-$250,000), known as the "King of Canadian Coins."
With the offering of this 1936 Dot Cent, Heritage Auctions will have brought to auction all three examples of the 1936 Dot Cent that exist outside of museum collections. As a Specimen 66, this piece is five grade points finer than the Dominion Collection Specimen offered in September 2006 and two points finer than the Pittman-Belzberg Specimen sold in January 2003.
At its previous appearance in the Belzberg Collection, auctioned by Heritage in January 2003, this issue of the 1921 George V 50 Cents "King of Canadian Coins," Ex: Bass-Belzberg-Brown example, was graded MS65 by PCGS and also MS65 by ICCS; it has since been upgraded to MS 66. One of the very scarce survivors of this important issue, this example was certainly well-kept from the time it was acquired and should draw quite a bit of attention from collectors.
Further highlights of The Canadiana Collection include an 1890-H 50 Cent in MS64, the rarest coin to find of the incredibly difficult Victoria 50 Cents series, and certainly one of Canadian numismatics' most coveted issues (estimated at $175,000-$225,000) and an 1870 No LCW 50 Cents, MS64 PCGS, the finest known example of this extreme rarity by four points, estimated at $150,000-$200,000.
Collectors of all numismatic nationalities will most certainly be keeping a close eye on the undeniably unique 1862 Republic gold 50 Francos 1862-GJ, KM-Pn10, AU55 NGC from Ecuador, probably the most important South American coin that exists. It carries an estimate of $400,000-$500,000.
"This coin has been off the market for nearly 40 years," said Cristiano Bierrenbach, Director of International Sales at Heritage Auctions, "and is perhaps the most interesting and desired South American coin in existence. In fact, this unique 50 Francos piece was unknown for almost a century until it was discovered by Robert Friedberg in the 1950s. After its sale at another auction house in 1970 it has been lovingly kept in a single-owner collection and now stands to be the cornerstone of the most advanced world coin collection."
The Exeter College Collection of British Coins, an outstanding group of about 250 silver British coins, most of them in high mint state condition, will offer a major draw to collectors of fine English numismatics, while the reach of the British Empire will also be felt as Heritage auctions The Bombay Collection of Indian Gold Coins, consisting of 78 gold coins from India, including four rare and highly sought after William III Double Mohurs.
Further highlights of the auction include, but are certainly not limited to:
Republic gold 20 Pesos 1916, KM21, Proof 63 PCGS: Extremely rare Proof only date with a total mintage of 10 pieces. One of the great rarities of the Latin gold series, and missing in the collections of the ANS and Smithsonian, Estimated at $100,000-$125,000.
George V Proof Set 1934, KM-PS11, comprising KM22-27, certified and graded by PCGS as follows: Halfpenny Proof 65 RB; Penny Proof 65 RB; Threepence Proof 68; Sixpence Proof 67; Shilling Proof 67; and Florin-Two Shillings Proof 66. An absolutely spectacular set, possibly the finest known and certainly the highest certified. Very rare and a centerpiece for any advanced collection of Australia. Possibly the finest of the very few proof sets known. Estimated at $60,000-$75,000.
Mughal Empire. Muhammad Jahangir gold Zodiac Mohur AH1028 Year 14 (1619) Virgo, KM180.11, Friedberg 767, AU55 NGC: One of the most classic and desired series in all numismatics, and Virgo is perhaps the rarest of all the Signs of the Zodiac in gold. Estimated at $60,000-$75,000.
La Rioja Gold 8 Escudos 1842-R, KM14, Friedberg 10, XF40 NGC: A coin of great historical importance, it was struck under the authority of General Juan Manuel de Rosas, leader of the Argentine Confederation. Extremely rare and one of the most historically compelling issues of the Argentine series. Estimated at $55,000-$65,000.
South African Republic gold Pond 1874, Friedberg 1a, KM12, MS64 NGC, fine beard variety: An astounding example of the famed Burgers Pond, portrait of President Thomas François Burgers. 695 were struck in Birmingham, England. Few of this small number have survived, and many extant are damaged from jewelry use; certainly one of the highlights of the entire auction. Estimated at $50,000-$60,000.
Breslau Karl Ferdinand of Poland gold 10 Ducats 1639, Facing bust with date below/Two shields, with scepter and sword behind, eye of God above, F-503a, struck with dies for the 1639 Taler Dav-5114, 44 mm, 34.59-C gm, XF40 NGC: An exceedingly rare coin, one for which Heritge can find no previous record of sale. Estimated at $40,000-$50,000.
Paul I Albertus Russian Rouble 1796 БM, Crowned Imperial eagle with date above/Tablet with legend, Bit-14 (R1), UZD-1257, AU details with collector's mark Λ below the eagle's tail: Estimated at $20,000-$25,000.
Ligurian Republic – Genoa 4 Lire 1804 Anno VII, KM265, MS66 NGC: Estimated at $10,000-$12,500.
Vittorio Emanuele III PROVA Set 1939R, the six coin series certified and graded by NGC as follows: 5 Centesimi KM-Pr68 aluminum-bronze, MS63; 10 Centesimi KM-Pr69-C aluminum bronze, MS63; 20 Centesimi KM-Pr70 non-magnetic, MS63; 50 Centesimi KM-Pr71 non-magnetic, MS64; Lira KM-Pr72 non-magnetic, MS64; and 2 Lire KM-Pr73 magnetic, MS62. Each coin has PROVA added to the reverse legends. Estimate: $7,500-$10,000.
Ligurian Republic – Genoa 2 Lire 1798 Anno 1, KM264, MS65 NGC: Estimated at $6,000-$7,500.
A near complete date run of Russian platinum 3 Roubles including proof coins.
Heritage Auctions, headed by Steve Ivy, Jim Halperin and Greg Rohan, is the world's third largest auction house, with annual sales more than $700 million, and 475,000+ registered online bidder members. For more information about Heritage Auctions, and to join and gain access to a complete record of prices realized, along with full-color, enlargeable photos of each lot, please visit www.HA.com.