May 2nd, 2012 by
admin
The history of the de La Tour d'Auvergne Lauraguais family is a long and distinguished one. Related by marriage to the noblest dynasties in France, it is one of only six families (alongside the houses of Savoie, Lorraine, Grimaldi, Rohan and La Tremoille) to be granted the rights and privileges accorded to foreign princes.
The collection of Prince and Princess Henry de La Tour d'Auvergne Lauraguais includes a breadth of items, from very fine Neo-classical and Empire furniture, headlined by a magnificent gilt-bronze mounted amaranth and tulipwood secrétaire by Joseph, circa 1770, to the finest collection of 18th century scagliola to appear at auction.
A selection of other items integral to the daily lives of this great aristocratic family include: porcelain, silver, glass, linen, jewellery, clocks, objets de vertu and paintings and in addition, medals, orders and Cardinal's regalia.
Session Two presents the important collection of books, manuscripts and livres d'artistes, including books from the library at Château de Rochecotte of celebrated designer and architect Emilio Terry (1890- 1969), maternal uncle and mentor of Prince Henry.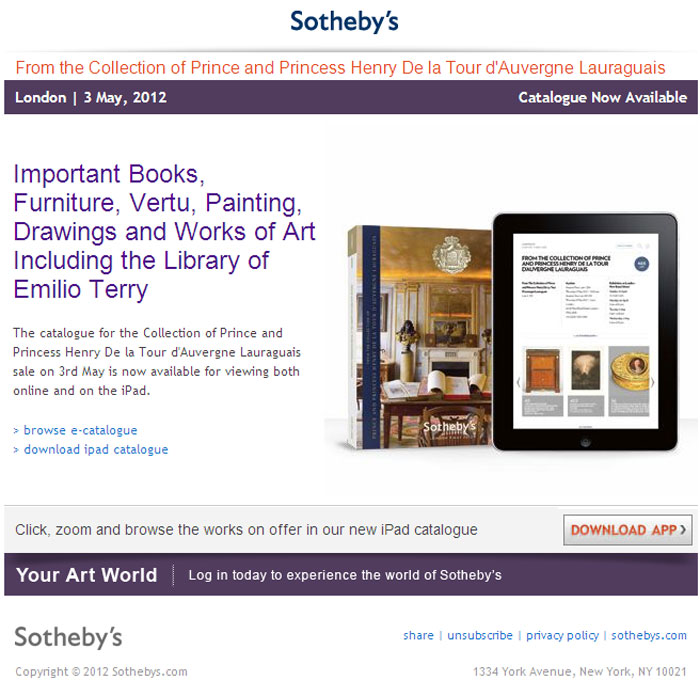 Comments Off

on Sotheby's London – From the Collection of Prince and Princess Henry De la Tour d' Auvergne Lauraguais