February 25th, 2013 by
admin
This is not the first time Renoir's adopted daughter had her portrait painted.
It's November in 1904 and the young Jeanne, Mrs. Paul Valery, now 27 years old, receives a note from Pierre-Auguste Renoir.   "Would you care to come [to my studio] starting Tuesday morning, if there's not too much fog?" A gentle request from one of the best loved Impressionists of all time. The result of that sitting and those to follow would yield the remarkable composition you see here.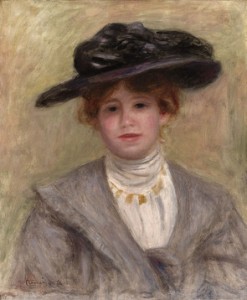 The story of how Jeanne Gobillard became the ward of Renoir is quite the story; a story of love, friendship, and a commitment to both.
Berthe Morisot and her sister Edmé (the mother of Jeanne) were students of art.  Berthe even went on to study with Corot and was great friends with Édouard Manet, marrying his brother in 1874. She was the only female that exhibited in the first Impressionist exhibition in 1874.   However, unlike most of the Impressionists, Morisot's works were favorably critiqued by the Salon. Her most famous, The Cradle, was a painting of her sister Edmé gazing at her new born daughter Jeanne.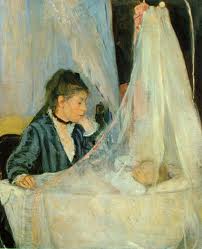 A string of tragedies befall the family leaving Julie, the daughter of Berthe, and her cousins Jeanne and Paule orphaned.  Renoir volunteers to adopt all three of the girls and raise them as his own.  The four became very close and the tenderness Renoir felt for Jeanne is evident in this work of art.
Displaying Renoir's spectacular skill for utilizing light and color, this composition is truly representative of his body of work.  Moreover, this portrait represents an intimate chapter in the artist's life and gives a glimpse of who he was beyond the canvas and the brush. Any one of these factors would make this painting a tremendous addition to your collection.  The importance of their union in this masterpiece, as well as the fact that this is the first documented portrait Renoir completed of Jeanne, cannot be overstated.
These portraits can be found at the M.S. Rau Antiques  shop in New Orleans and the article and further information on the portraits can be found online: here http://www.rauantiques.com/blog/2013/01/25/a-loving-rendition/ and here http://www.rauantiques.com/29-9143.html