Reyne Gauge: Think You Know Shoes? By Reyne Haines
May 3rd, 2010 by
admin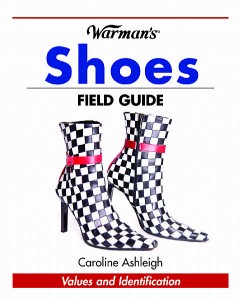 Imelda Marcos showed women around the world what it meant to have a shoe fetish.  At one point, Marcos had acquired 3,000 pair of shoes.   Some of her impressive collection is now housed in a museum in the Phillippines.   The collection included shoes from luxury houses such as Charles Jourdan, Gucci and Ferragamo.
I remember parading around the house in my mother's high heel shoes as a little girl, dreaming of the day they would be mine.   I wasn't allowed to wear heels until high school, but as soon as that day came, I was hooked.
The other day I received a copy of the new book:  "Shoes".  My friend and colleague, Caroline Ashleigh penned the book, and I had been counting down the days until my copy would arrive.  She was cruel, err I mean kind enough to show me the cover of the book early on.   Those boots screamed "Take Me Home" as I love boots and I had a small collection of checkered "Vans" when I was in high school.   If the cover was any indication of what eye candy would be inside, I was in trouble…BIG trouble.
Sure enough, the book arrived and I've been drooling ever since.  Who needs words when you have great photos? I'm sure there is great information touted in the book, but I won't lie like a man reading a Playboy and claim "I get it for the articles".  I'm here for the shoe party!
This book has 512 pages filled with full color images of some of the finest shoes known to women.  Men, hide your wallets.  If your significant other gets a copy of this book – you are doomed. You will not only need a second, but a third job just to afford her.
Apparently, I'm not the only girl who has a thing or two to say about her love of shoes.  This book is filled with quotes by celebrities, personalities, and shoe designers such as Jessica Simpson,  Nina Van Horn, Manolo Blahnik, Giuseppe Zanotti, Rachel Zoe… I could go on.  Had she asked for a quote from me, I could sum things up in one word "YUM".
Whether you love shoes made yesterday, 25 years ago or 100 years ago, you'll love this book!
http://www.amazon.com/Warmans-Shoes-Field-Caroline-Ashleigh/dp/1440208980/ref=sr_1_1?ie=UTF8&s=books&qid=1272738797&sr=1-1