This American Folk Art Painting Is Worth Its Weight In Gold!
May 2nd, 2010 by
admin
Who says vintage American folk art isn't worth its weight in gold? The scales are definitely tipped in favor of this delightful painting I found last weekend at the New England Antique Show's Spring Fever Antiques and Design Show and Sale. Let's take a listen – and a look – at this intriguing piece of nautically inspired artwork by Cape Cod artist Ralph Cahoon.
Click here to see a video discussion of this great piece of art!
What "hangs in the balance" here is a painting entitled "Weighing in the Catch." The piece itself is oil on board and measures 13.75″ by 11.5″. The painting depicts an unfazed fisherman "weighing" a lovely, bejeweled mermaid, much like he would his daily catch of cod or flounder. But this take is clearly a dreamy "catch of the day!" Don't you wonder what he's REALLY thinking? The painting's details include a folksy "no fishing" sign crookedly hammered to a tree, a calm ocean bay, and a lighthouse in the background.
It would be fair to say that Cape Cod and the Atlantic 0cean were pivotal influences in Ralph Cahoon's life and career as an artist. Born in Chatham, Massachusetts in 1910, Ralph spent his early years on the beach, sailing, and fishing – and skillfully sketching these carefree pastimes for fun. In 1932, he married fellow Cape-Codder Martha Farham. Martha and her family were known for their talents in hand painting furniture. After Ralph and Martha married, they started their own very successful decorating and antiques business in Cotuit, Massachusetts. They would paint tables, chests, chairs, boxes, bookcases… just about anything that suited their fancy.  Their collector base for these one-of-a-kind items really started to expand.
Fast forward a few years to 1953 and the Cahoons started reeling in the big catch. Ralph and Martha's work was noticed and promoted by the wealthy New York socialite, art dealer, and future co-owner of the New York Mets, Joan Whitney Payson.   Payson worked with the Cahoons to transition their talents from furniture decorating to wall art painting.  She framed some of their paintings and displayed their works in her upscale Long Island shop, called the Country Art Gallery.  They became a sensation among affluent New Yorkers, who loved them for their happy, innocent themes of carefree life by the sea.  Ralph's works depicting playful, not-quite-risque mermaids became his "signature" pieces.   The Cahoons would go on to an almost 30 year career of commercial success, showing at galleries across the United States and through their own studio on Cape Cod.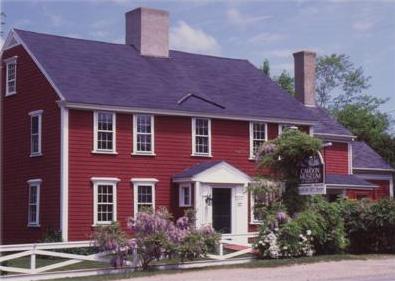 Ralph passed away in 1982, at the age of 72. He continued to paint up until his last days.  Martha lived through 1999, and like Ralph, was an active artist until the end.   After Ralph died,  Martha sold their Cape Cod home and studio to Rosemary Rapp, a friend and local art enthusiast who converted the building to an art museum.  Today, the Cahoon Museum of American Art features works by both Ralph and Martha Cahoon, contemporary artists, as well as other well known 19th and 20th century artists including Alvan Fisher, Ralph A. Blakelock, Benjamin Champney, and Martin Lewis.  It is a wonderful destination for art lovers visiting Cape Cod and well worth the trip.
Today, Ralph Cahoon's works continue to be of great interest for collectors. Recently, several larger pieces have sold in the $150,000 range.  This particular work, Weighing in the Catch, is available for $15,000 from Bradford Trust Fine Art of Harwich Port, Cape Cod.
Net-net, I would like to thank Roy Mennell of Bradford Trust Fine Art for hooking me up with this great piece of fishing-inspired American art. Bradford Trust Fine Art offers a wide selection of American and European 19th and 20th century art and specializes in artworks of coastal New England (including Maine and Boston area) and Cape Cod, particularly Provincetown.  For more information about this piece, please contact Roy at bradtrust@comcast.net.
What is your very favorite antiquing, vintage, or design find? Let's talk! Click here to learn more.
Learn more about New England Antique Shows and their upcoming events by clicking here!
Tags: "ralph cahoon", Concord, design, Fine Art, Massachusetts, NEAS, New England Antique Show