Elvgren, Vargas, Petty and other Pin-Up luminaries head to Beverly Hills for $3,000,000+ Heritage Auctio
April 19th, 2010 by
admin
The greatest pin-up paintings of the epic Martignette Estate will be offered in a special May 7 Heritage Beverly Hills Pin-Up and Glamour Illustration Art auction.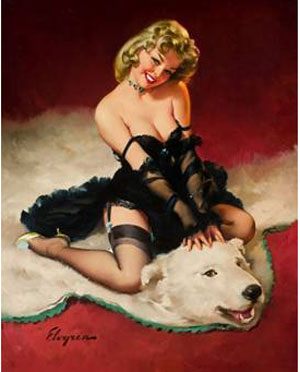 BEVERLY HILLS – If ever there was a perfect match, it would be the setting of the Golden State with a showing of the greatest names in Pin-Up and Glamour Art, and now they've set a date to make beautiful music together at Heritage Auction Galleries Beverly Hills on May 7, 2010 for the company's Signature® Illustration Art Auction, in-person at 9478 West Olympic Blvd, and online at HA.com.
"The top names in Glamour and Pin-Up – Elvgren, Vargas, Petty, Armstrong, Bolles, Moran – are all here in this superb collection," said Ed Jaster, Vice President of Heritage Auctions. "Los Angeles is celebrated for its beautiful women, but even so, the city is in for a fun, glitzy floor show with these ladies."
The Illustration Art venue at Heritage has grown increasingly popular throughout the last 10 months, with the three auctions that have transpired since the company began auctioning the epic Charles Martignette Estate last July. Many of the best examples are waiting their turn at auction, and for several of Martignette's personal favorites, that turn is coming up in Beverly Hills in only a few weeks.
Perhaps the most significant piece of Pin-Up art in the auction, and certainly one of the most famous pieces of pin-up art ever painted, is Gil Elvgren's 1962 masterpiece Bear Facts (A Modest Look; Bearback Rider), estimated at $50,000-$75,000.
"The pin-up talent most near and dear to Martignette's heart had to be Gil Elvgren, and his favorite piece was Bear Facts," said Todd Hignite, Consignment Director at Heritage Auctions. "It was showcased as the dust jacket cover, and featured again as figure 414, of the important monograph, Gil Elvgren All His Glamorous American Pin-Ups by Martignette and Louis K. Meisel, and once again as figure 382 of The Great American Pin-Up, also written by Martignette and Meisel. Here is a pin-up masterwork that top collectors have been waiting years to have a chance at owning."
Martignette was also a passionate fan of the radiant hues, sweeping rhythms, and enchanting detail featured in the pastels of the legendary Rolf Armstrong, all of which are on full display in the artist's 1947 drawing for the calendar print Twinkle Toes, one of the most iconic pin-ups in the Martignette Estate, estimated at $20,000-$30,000.
"For those who know illustration, drawings don't get much better than this piece," said Jaster. "All of Armstrong's bravura draftsmanship is evident in this incredible piece, perhaps more so than any other that he created.  Martignette knew what this piece was worth, and I'm betting that today's collectors also know its value, and are willing to bid whatever it takes to win."
In keeping with the theme of Martignette's favorites, Heritage is also offering Coles Phillips' 1922 Holeproof Hosiery Company ad illustration, one of the earliest and most popular of all American pin-up pieces. This lovely ad illustration appeared in Life, Redbook, Library Digest, Good Housekeeping, Pictorial Review, and Women's Home Companion magazines in 1922-23, and it was reproduced in the books,  All American Girl — The Art of Coles Phillips by Michael Schau, Famous American Illustrators by Arpi Ermoyan, and  Martignette and Meisel's own seminal book, The Great American Pin-Up. It is estimated at $18,000 – $24,000.
While Martignette was identified almost exclusively with the big-name illustrators whose art he saved and championed, his incredible eye for often unheralded, yet important works, must also be noted, and credited. He single-handedly saved many superb mid-20th Century American illustrations from a fate that might otherwise have been measured only in obscurity. Such is the case with George Hughes' classic Aug. 28, 1954 Saturday Evening Post cover, a painting that, in acquisition, confirmed not only Martignette's eye for great paintings of ladies, but also his ability to identify a compelling story, and a classic piece of Americana. It is estimated at $8,000 – $12,000.
"In addition to the Martignette Pin-Up and Glamour Art treasures that anchor this auction," said Hignite, "we'll offer a sparkling selection of highlights from his collection of the biggest names in Illustration, just as the Heritage clients have come to expect."
Among the important examples of the form that will be auctioned in Beverly Hills are  J. C. Leyendecker's 1920 House of Kuppenheimer ad illustration Record Time, Cool Summer Comfort, estimated at $20,000 – $30,000, and Norman Rockwell's c. 1960 Portrait of a Woman in a Red Dress (Mrs. David Shapiro), an important piece in the Rockwell oeuvre that was a product of the artist's  1960 joining of Best on Thursday mornings, a group of artists that met in the Pine Street, Cambridge, MA studio of Peggy Worthington. It is estimated at $8,000-$12,000.
According to Rockwell historian Laurie Norton Moffatt, "The purpose of the class was for him to experiment in loosening up his tight, detailed style in which he felt he had become too rigid." She has further noted, "Some of the portraits were sold in a gallery shop at the studio. Many were given to the models who had posed during the session. The remaining paintings are part of the Norman Rockwell Paintings Trust at the Old Corner House."
While the Martignette lots will be an undeniable draw in the May 7 auction, avid collectors of Science Fiction/Fantasy art have already sat up and taken notice of the inclusion of The Frank Collection of Science-Fiction and Fantasy Art, perhaps the most awesome assemblage of Fantasy art ever offered.
Chief among the amazing rarities in The Frank Collection is Frank Frazetta's Warrior with Ball and Chain, Flashing Swords #1, paperback cover, 1973, one of the most-recognizable and famous of all Sword and Sorcery Fantasy paintings. It is estimated at $200,000-$300,000.
"This stirring, savage and superb Frazetta masterwork first appeared on the cover of the anthology Flashing Swords #1, published by Dell in the early 1970s," said Jaster, "and it's only gained in popularity since then. Such a peak-period, published cover painting spotlighting the signature subject matter by the master represents an incredible collecting opportunity."
Science Fiction masterworks from The Frank Collection take the stellar form of Chesley Bonestell's Saturn Viewed from Titan, c. 1952, the most famous and recognized image Bonestell ever painted, estimated at $30,000-$50,000, and in Virgil Finlay's Palos of the Dog Star Pack, Famous Fantastic Mysteries cover, October 1941, another of Science Fiction's most intriguing and beloved images. It is estimated at $8,000-$12,000.
An exhilarating opportunity for erudite collectors comes to auction from The Mort Künstler Collection, selections from the personal archives of the legendary post-war men's adventure magazines' premier artist.  Among its offerings will be Captured by the Chief, Stag cover, February 1967, estimated at $4,000-$6,000, Blonde on the Rocks, Men cover, August 1967, a classic of the form, for which Künstler set the standard, which is estimated at $3,000-$4,000.
Heritage Auctions, headed by Steve Ivy, Jim Halperin and Greg Rohan, is the world's third largest auction house, with annual sales more than $600 million, and 500,000+ registered online bidder members. For more information about Heritage Auctions, and to join and gain access to a complete record of prices realized, along with full-color, enlargeable photos of each lot, please visit HA.com.