Dazzling diamonds, designer jewels and famous names highlight Heritage May Jewelry auction
April 19th, 2010 by
admin
Selections from The Dorothy & Sidney Factor Collection; also Cipullo, Cartier, Tiffany, Harry Winston, Van Cleef & Arpels and more, May 3 in Dallas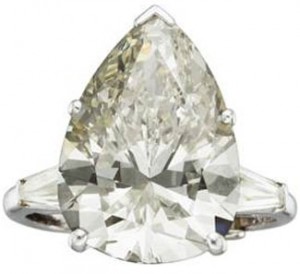 DALLAS, TX — A fantastic collection of jewels by some of the most prolific and highly sought after jewelers and jewelry firms on the planet will have the eyes of collectors of brilliant gems and precious metals firmly fixed on Dallas on Monday, May 3, when Heritage Auction Galleries presents its Signature® Fine Jewelry Auction live at the company's Dallas Design District showroom, 1518 Slocum Street, and online at HA.com.
"The selections in this auction run from the Venerable – names like Cartier, Tiffany, Van Cleef & Arpels and Harry Winston," said Jill Burgum, Director of Jewelry Auctions at Heritage, "to the artistic and contemporary, with names like Aldo Cipullo, David Webb, Marco Bicego and Donna Vock constituting just a few of the designers in the sale."
Above all, however, what stands out in this auction are the diamonds with a dazzling array awaiting erudite bidders. The first among equals is the gorgeous pear-shaped 13.75 carat Diamond and Platinum Ring from the Dorothy & Sidney Factor Collection, being sold by the famous Beverly Hills family to benefit charity. It is estimated at $125,000-$175,000.
"You'll be hard pressed to find a more elegant or eye-catching diamond," said Burgum. "It was a gift from Sidney to Dorothy during the latter part of their legendary marriage, and has always been one of Dorothy's favorite pieces. She's parting with it now to let someone else enjoy its magnificence, as well as to act as a fundraiser for the family's favorite charities."
Another Diamond, Platinum Ring, this one from Tiffany & Co., featuring s 5.60 carat Lucida™-cut diamond, is also expected to turn heads. The Lucida™-cut from Tiffany is one of the company's most popular cuts, introduced in 1999, and was the result of decades of development by the famed company. The elegant cut features elements of the Asscher and antique cushion-cuts melded into what is considered a more contemporary diamond cut. It features a modified square cut with truncated corners, a high step-cut crown, a small table and brilliant faceted pavilion – making for 50 total facets. It is estimated at $100,000-$125,000.
Also of considerable note to collectors is a Fancy Colored Diamond, Diamond, White Gold Ring featuring a Grayish Yellowish Green oval-shaped diamond weighing 7.84 carats, enhanced by round brilliant-cut diamonds weighing a total of approximately 3.00 carats, set in 18k white gold. It is estimated at $75,000 – $100,000.
A Fancy Green Diamond, Pink Diamond, Platinum, Gold Ring from designer David Alan, featuring a natural Grayish Yellowish Green radiant-cut diamond weighing 5.55 carats, estimated at $60,000-$80,000, is expected to bring some competitive bidding, while a simple yet stunning Diamond, Platinum Ring, weighing 4.07 carats, flanked by baguette-cut diamonds and set in platinum, is expected to bring $40,000-$50,000.
Of particular note in the designer jewelry selections is a grouping of four gorgeous and colorful designs from legendary Cartier designer Aldo Cipullo, one of the only craftsmen that Cartier let sign his pieces while he was in their employ.
"Cipullo invented the LOVE bracelet, which is just as popular today as it was 30 some years ago," said Burgum. "His designs are timeless. Owning a Cipullo piece is an art experience."
Roman-born Aldo Cipullo, the son of a prominent Italian jeweler, immigrated to New York in 1959 at age 23, where he studied at Manhattan's famed School of Visual Arts. It was while working for David Webb, Tiffany and Cartier that he showcased his talent for innovative design. Cipullo's passion for modern living influenced his pure, clean designs. The mass appeal of his designs was evident in the tremendous interest expressed in both the press and the public, as well as by socialites and celebrities alike. Some of his most well-known clients included Sophia Loren, Liza Minnelli, Elizabeth Taylor, and the Duchess of Windsor, as well as Pierre Cardin, Frank Sinatra and Richard Burton.
"In 1974, the same year he opened his own business – Aldo Cipullo, Ltd. – he won the prestigious Coty Award for his pioneering influence on the design of men's jewelry," said Burgum. "Ten years later, on February 2, 1984, Cipullo died much too early, at age 48, in New York City."
Further highlights include, but are not limited to:
Bvlgari Fancy Yellow Diamond, Platinum, Gold Ring: Featuring two Fancy Yellow triangular-shaped diamonds, one weighing 2.12 carats together with one weighing 1.64 carats, flush set in platinum and 18k yellow gold, accompanied by its original signed box. Marked Bvlgari. Estimate: $35,000 – $45,000.
Diamond, Platinum Ring: Featuring a cushion-shaped diamond weighing approximately 4.45 carats, flanked by cut-cornered shield-cut diamonds, set in platinum. Estimate: $30,000 – $40,000.
Diamond, Platinum Ring: Featuring a round brilliant-cut diamond weighing 4.07 carats, enhanced by baguette and square-cut diamonds, set in platinum. Total diamond weight is approximately 5.65 carats. Estimate: $30,000 – $40,000.
Diamond, Platinum, White Gold Necklace: Featuring a kite-shaped diamond weighing 4.05 carats, enhanced by a full-cut diamond weighing approximately 0.45 carat, set in platinum, suspended by 18k white gold chain. Estimate: $30,000 – $40,000.
Diamond, Platinum Bracelet: From the Dorothy & Sidney Factor Collection. The bracelet features 38 pear-shaped diamonds of varying weights, enhanced by baguette-cut diamonds, set in platinum. Total diamond weight for the bracelet is approximately 32.50 carats. Estimate: $25,000 – $50,000.
Heritage Auctions, headed by Steve Ivy, Jim Halperin and Greg Rohan, is the world's third largest auction house, with annual sales more than $600 million, and 500,000+ registered online bidder members. For more information about Heritage Auctions, and to join and gain access to a complete record of prices realized, along with full-color, enlargeable photos of each lot, please visit HA.com.