Einstein Trove At Heritage Auctions Beverly Hills Offers Insight Into The Great Genius
January 14th, 2010 by
admin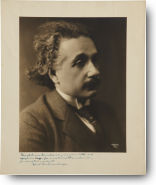 1921 photograph signed to 'a great awakener of the Jewish spirit'; 1934 'Weltbild' inscribed to longtime friend and mentor Max Talmey, Feb. 11-12 at Heritage Beverly Hills
LOS ANGELES — A trio of intriguing lots related to the father of modern physics, Albert Einstein, from three distinct and important periods of his life, will provide a fascinating survey of one of the great geniuses of all-time when they come up for public auction as part of Heritage Galleries Beverly Hills' Feb. 11-12 Rare Books and Historical Manuscripts & Autographs Auctions.
Oversized portrait of Einstein taken in 1921 during his first visit to America, inscribed "to an ardent awakener of the Jewish soul…", most likely written to Chaim Weizmann, then-president of the World Zionist Organization. Estimated at $10,000-$15,000:
Amazingly enough, this important Einstein relic was found by the consignor in the trash at a jobsite in an affluent Boston neighborhood. What someone regarded as little more than waste may well end up bringing a substantial five figure price.
"It wasn't until after World War I, when anti-Semitism had begun to run rampant in Europe, that an already famous and influential Albert Einstein embraced his Jewish legacy and identity," said Sandra Palomino, Director of Historical Manuscripts & Autographs at Heritage Auctions, "and thereby Zionism."
During the spring of 1921, Einstein the celebrity made his first visit to America drawing large crowds and meeting President Harding in April. While in New York City, the New York Times (April 3, 1921) reported that "He looked like an artist." Sometime near that date, he had this photograph taken by Herman Mishkin's photography studio.
The 10″ x 12″ photograph shows the physicist handsomely dressed, in his early 40s, just shortly after he decided to let his graying hair grow longer. Einstein has inscribed below the photo in blue ink in German, "Something to remember us by, dedicated in friendship to an ardent awakener of the Jewish soul and one who successfully fought for our university. Albert Einstein May 1921."
Einstein's visit was the result of his acceptance of an invitation to accompany Chaim Weizmann, the president of the World Zionist Organization, on a fundraising tour of the eastern United States. Weizmann used the popular Einstein to draw crowds and increase donations to help Jews settle Palestine. One of his key interests in the movement was the proposed Jewish university to be located in Jerusalem, which is certainly what he refers to in this inscription (Hebrew University opened in 1925).
Einstein and Weizmann visited Princeton University (which Einstein liked) and Harvard University (which he didn't). At Princeton, Einstein lectured for a week, but during his two-day visit to Harvard, he spent most of his time with Weizmann attending Zionist dinners and rallies.
While this photo could have been inscribed during those two days and given to an unnamed supporter, the directness and personal nature of the message, not to mention the quality of the photograph itself, leads one to draw a more obvious conclusion.
"It's highly likely that this photo was inscribed and given to Weizmann, who was a strong advocate for the university and later served with Einstein on the university's first Board of Governors," said Palomino. "This would be a very intense message to write to someone he simply shared a dinner with, or to someone just looking for an autograph."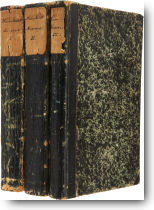 Mein Weltbild, or The World As I See It, inscribed by Einstein to longtime mentor and friend, Max Talmey. Estimated at $8,000+:
In a 1934 first edition presentation copy of his seminal book, Mein Weltbild, or The World As I See It, Einstein's inscription to his longtime mentor and friend, Max Talmey, brings full circle the lives of the two men as Einstein writes: "What I let slip carelessly / the Devil kept. /Mr. Talmey with/best wishes on your birthday./A Einstein/1934".
Max Talmey (born Max Talmud) was a Polish medical student who introduced the young Einstein to the wonders of science, mathematics, and philosophy. European Jewish families routinely helped impoverished students by regularly giving them good meals, and every Thursday Talmey came to dinner at the Einstein house. He and Einstein became good friends, despite a 10-year age difference. In appreciation, Talmey loaned Einstein books on science, beginning with Popular Books on Natural Science by Aaron Bernstein and continuing to more advanced fare like Force and Matter by Ludwig Buchner and Kosmos by Alexander von Humboldt, as well as Theodor Spieker's geometry textbook, Lehrbuch der ebenen Geometrie, which made the greatest impact on 12-year-old Einstein.
"Their paths diverged when Einstein was 15 and Talmey moved to New York City to practice medicine," said James Gannon, Director of Rare Books at Heritage Auctions, "but they met again several times through the years. In 1932, a decade after Einstein won the Nobel Prize in 1921 for his Theory of Relativity, Talmey wrote a well-received and insightful book about Einstein, The Relativity Theory Simplified and the Formative Period of Its Inventor."
Talmey writes (on page 159): "Extraordinary mentality was already evident in Albert Einstein when he was only a young boy. This I observed at close range through my associations with him from his tenth to his fifteenth year, and I had the good fortune even to play some part in its unfolding during this highly formative period of his life." He continues (on page 160): "With the exception of his nearest relatives I am the only one who was personally familiar with that important stage in the life of this preeminent scientist."
In a display of self-deprecating humor, on the front flap of the dust jacket Einstein has crossed through Mein Weltbild, and written "Quatsch" ("Nonsense") beneath it.