June 17th, 2011 by
admin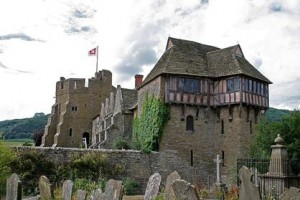 John Taylor Arms's "Stokesay Castle", is a world famous historical antique. Arms created this etching and work of art in 1942. It is printed on black on blue-green handmade laid paper. The image presents a side view of the famed thirteenth-century fortified manor house located in Shropshire, England. The scene shows the castle and adjoined church next to it. It is pencil signed and dated the year 1942. The print is titled and inscribed "To my friends Mr. and Mrs. Robert D. Smith with Best wishes from John Taylor Arms 1942." The technique used is engraving. Overall, this exquisite print is inexpensive and in very good condition.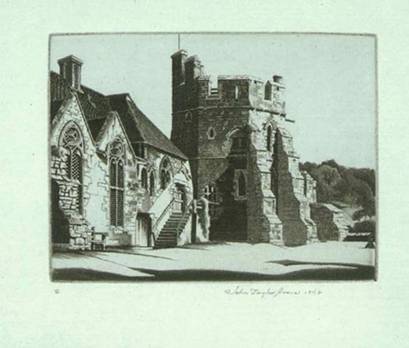 From the Norman Conquest until 1241, the area was held by the Lacy family, a powerful dynasty with lands in the Welsh Marches. Stokesay Castle is a fortified manor house in Shropshire, England. It was built in the late 13th century. Stokesay Castle is a grade 1 listed building, which means it has been placed on the Statutory List of Buildings of Special Architectural or Historic Interest. This gigantic fortress was owned by the Lacy family. On the death of the last male heir, Walter de Lacy, it was left to the husbands of his two granddaughters to divide the family estates. The Stokesay Castle manner went to John de Verdon. Verdon went on a crusade leaving his property to a tenant. This tenant sold the manor in 1281 to Laurence of Ludlow. The main construction of Stokesay Castle was undertaken by Ludlow, the richest local wool merchant of his generation. Extensive research done on Stokesay Castle's structure was done and concluded that virtually the whole present structure was completed before 1291. One of the oldest elements of Stokesay Castle is the lower two story's of the north tower. One of Stokesay Castle's most magnificent features is its great slate-roofed hall, which stands thirty-four feet high. The original wooden staircase also remains intact today. The Elizabethan gatehouse, added in the 16th century, is also half-timbered and is decorated with elegant carvings. The interior of the castle contains a selection of rare wall paintings from the medieval period.
During the reign of King Charles I, Stokesay's Castle fell into the ownership of a different family and was used for a supply base for the King's forces in the area, in the early stages of the English Civil War. The manor was used as a farmhouse and a barn until the early nineteenth century. In 1869, it was purchased by John Derby Allcroft. Allcroft, realizing the historical significance of Stokesay's Castle, set about to restore and maintain it. He also had Stokesay's Court built nearby. Stokesay's Castle is currently in the guardianship of the English heritage, which provides a recorded audio tour of the entire premises for visitors. This is a print that will add nicely to an antique collection for any collector.