December 8th, 2011 by
admin
Swann Galleries' auction of Important Photobooks & Photographs on Tuesday, December 13 features beautiful and poignant images and books ranging from the earliest photographs to works by artists living and working today.
Highlights include:
Among the photobooks, Edwin Hale Lincoln's lavishly illustrated Wild Flowers of New England Photographed from Nature, a complete set of 8 volumes with 400 platinum prints, one of perhaps 50 copies of the self-published work, 1910-14 (detail top right).
William Eggleston's 2 1/4, a limited-edition book featuring the artist's early color photographs, with a signed print. One of 50 copies, 1999.
A large selection of New York City photographs including Harry Callahan's Untitled (World Trade Center), a silver print, 1974.
Stephen Shore's Ginger Seippel, Miami, Florida, a C-print, 1977, printed 1980.
Aaron Siskind's Viterbo Broom portfolio, containing 18 abstract photographs, all silver prints, 1967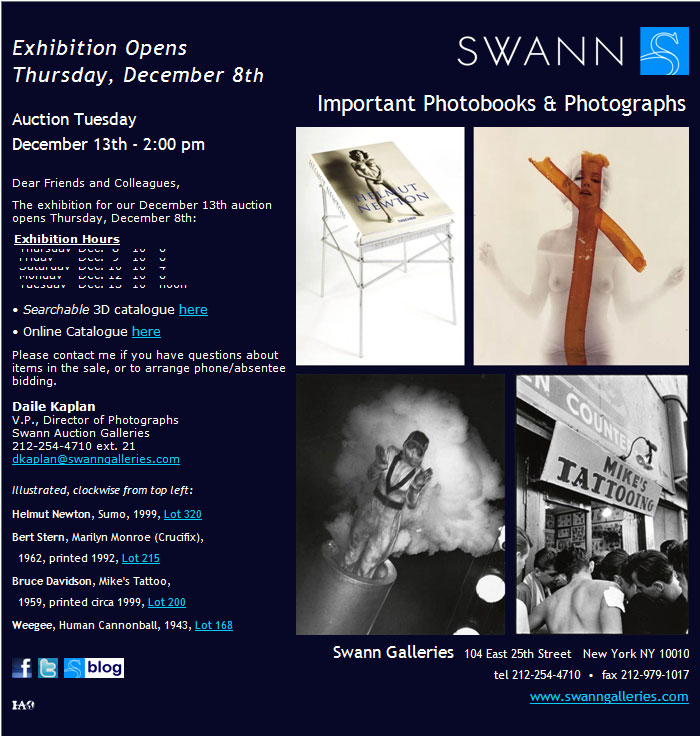 Comments Off

on Swann Galleries – Important Photobooks & Photographs