May 12th, 2010 by
admin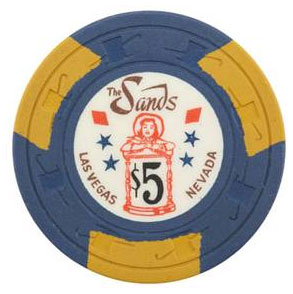 Rare Sands $5 "cowgirl leaning on hourglass issue" chip expected to bring $30,000+ in Heritage Political & Americana auction, May 22
DALLAS, TX – In a time when Las Vegas casino revenues have dropped steeply during the recession, some of the city's historic gaming chips have increased, literally, thousands of times in value. A Sands Las Vegas $5 Casino Chip, ninth issue, circa late-1950s, is expected to bring $30,000+ as part of Heritage Auctions May 22 Political & Americana Auction, in-person at Heritage's Turtle Creek headquarters at 3500 Maple Avenue, and online at HA.com.
The auction will include some 60 lots of scarce and rare casino chips from a variety of legendary Vegas casinos, with values ranging from several hundred to tens of thousands of dollars.
"This ninth issue Sands $5 chip, with its connection the great Sands hotel, and the famous 'hourglass' logo, is a direct link to the history, glamour and glory of all that made Vegas what it is today," said Tom Slater, Director of Americana Auctions at Heritage. "For a city whose hallmark is constant change this is a remarkable survivor from the golden age when the town earned its reputation as 'Sin City.'"
This 'hourglass' chip features one of the best-known vintage Vegas logos; it was used in advertising and promotion throughout the 1950s and was a very appropriate emblem back when Vegas was a western-themed town. Even more impressive is the fact that this is one of only three good Sands $5 chips known, with one additional chip drilled (a common practice at casinos used to make tourist key chains of defunct chips). Of the top four chip sales to break the $100,000 mark, two were Sands chips, with a $100 eighth issue bringing $145,000. This example comes from an old collection and has not previously been offered for public sale.
This new wrinkle in the Political & Americana category marks the first time that Heritage will be including the beautiful gaming markers in one of its auctions. It is, however, a category that the company believes has great potential.
"This is a comparatively small, but growing hobby," said Slater, "with a national organization of nearly 2000 adherents and its own magazine. What it's lacked is a viable national auction platform to effectively serve it while also providing the visibility the hobby needs to attract new collectors. With our 500,000+ bidder-members and unparalled internet presence, Heritage is the perfect vehicle to do just that."
Among the more intriguing of these visually stunning and valuable chips is a rare Flamingo $5 Las Vegas Casino Chip, First issue, R-6, dating to 1946. This chip is a Bugsy Siegel issue, probably the most popular chip from this famous casino as depicted in the film Bugsy. The chip is estimated at $4,000+.
"This great-looking die-cut brass inlay chip is one that top collectors cherish as they are seldom offered for sale, especially in this top-grade condition," said Slater. "With the Bugsy Siegel and Meyer Lansky mafia affiliation, and its long and fabled history on the strip, chips and memorabilia from the Flamingo are very popular and highly sought-after by collectors of all levels."
Two more early Vegas chips provide added heft to the collection, with a Desert Inn $5 Las Vegas Casino Chip, "Wilbur Clark's," Seventh Issue, R-9, Circa 1950s expected to bring between $4,000-$7,000, and a Hacienda $5 Las Vegas Casino Chip, First Issue, R-9, Circa 1956 estimated to bring $4,000-$6,000. There are only five to seven of the blue, odd-colored "Wilbur Clark face" chips known to be in collections, and the Hacienda chip, one of just six or seven known, is a rare and desirable early original chip showing the distinctive Gaucho on a Horse image that mirrored the same famous image on the revolving marquee outside the Hacienda Hotel before it was imploded in 1996.
"Heritage has been fortunate to obtain the expertise of the man universally regarded as the guru of casino chip collecting, James Campiglia," said Slater. "Along with co-author Steve Wells, Campiglia is the author of 'The Official U.S. Casino Chip Price Guide, the bible for serious hobbyists. James has inspected and cataloged every lot, and each chip will be sold with a certificate of authenticity signed by him. There is no better assurance of quality and accurate presentation."
Further Highlights include, but are not limited to:
Flamingo $5 Las Vegas Casino Chip, Fifth Issue, R-8, Circa 1950s: The Fabulous Flamingo is vintage Vegas. Opened originally in 1946, it is the oldest resort on the strip still open. This casino drilled their chips as souvenirs, though some – like this one – didn't get drilled all the way. Obverse looks just like an undrilled chip and reverse just has a partial hole. One of only two known like this. Estimate: $2000-4000.
Harrah's $25 Reno and Lake Tahoe Casino Chip, Third Issue, R-10, Undrilled, Circa 1950s: There are a large variety of colorful Harrah's chips to collect spanning many years from their original locations. The first Harrah's Club opened in Reno in 1946 and, in 1955, Harrah's Tahoe opened. Harrah's has grown to become the largest casino chain in the world. This is an odd colored $25 chip from when black chips were predominately $100 in value. Estimate: $1500-2500.
Dunes, Roulette, 1st issue, 1955, R-8: There are approximately 10 of these chips known, which is not nearly enough to satisfy collector demand. A challenging set to complete with 19 colors logged. The Dunes likely had three tables, each with six chips. The additional chip is probably a color variant due to a re-order or a change out of a regular house chip. Until the manufacturer's records are found, we can only speculate. Estimate: $1200-2500.
Pioneer Club, 7th issue, c. 1950, R-5: The Pioneer Club opened in 1942 in downtown Las Vegas at First & Fremont. "Vegas Vic," whose picture is seen on the inlay of this chip, is an icon of Fremont Street and Las Vegas. Since 1951, this famous 40 foot-tall neon cowboy has been welcoming tourists and gamblers to town. Though the Pioneer Club closed in 1995, the sign is still there in front of the souvenir shop that replaced the casino. Not an extreme rarity but certainly a classic chip in the old hub mold. Estimate: $500-800.
Heritage Auctions, headed by Steve Ivy, Jim Halperin and Greg Rohan, is the world's third largest auction house, with annual sales more than $600 million, and 500,000+ registered online bidder members. For more information about Heritage Auctions, and to join and gain access to a complete record of prices realized, along with full-color, enlargeable photos of each lot, please visit HA.com.