June 8th, 2010 by
admin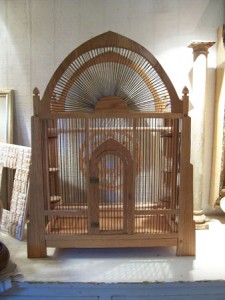 Have you ever misplaced your keys, and you search and search only to come up empty handed, when low and behold, they were in front of you the entire time?
I felt like that yesterday.  Like most, I'm always looking for the next bargain.   I'm always thinking, I should be hitting all the flea markets at 5am, finding out what are the new merchandise days at the thrifts, and scouring the online auction listings at the small houses because stuff slips through the cracks.
Those are the obvious, yet not so obvious places to find great stuff.  I think the hunt for those elusive items is what keeps us so excited about this business. You just never know what you will find, and where.
So yesterday I am out with my friend for lunch when she suggests we head over to this antique mall in town that I had not yet gone to.  I had heard it was nicer than some of the others in town, but it was having trouble filling all the booth space.  When I hear nicer, I immediately think, "overpriced".
But who am I to turn down a request by a friend to look at antiques?
We walked through the door and immediately there was a display of fine art glass. My kind of stuff, but eek…the price tags were for the year 2050.  Do people really want to sell their wares, or are they just for our viewing pleasure?
There was a great array of fine porcelain and my friend bought a beautiful Victorian rattle for her daughter.
While we were walking around I spotted a modern item in one of the booths that I know is going to haunt me. You know what I mean by haunt…you leave without it, and you think about it, over and over. (Which means I'll be going back and buying it this weekend)!
I would be perfect for my new book on decorating with antiques.  It's not antique though.  Which leads me to another pet peeve; antique stores/malls that carry new items.  Why do you do this?  What is it you don't understand about the word "antique".  Mind you, vintage is acceptable, but new?
Ok so why am I thinking about this item?  Because it was cool. It was a centerpiece for a large hall table or dining room table. It had a square base with a large round sculpture on top. It was made of wood branches and shaped into a sphere.  Price: $395.00 which means I could possibly get it for $350.00
Secondly, I found the coolest modernism pendant.  A large, round black disk with a single thick silver vertical stripe going up and down the center.   The tag said Miriam Haskell. I don't think that is who made it, but it was cool. Priced at $200.00
Finally, there was a pair of small white birdcages, probably Victorian era, priced at $45 ea.   I hadn't talked about my obsession with birdcages just yet, but in my upcoming videos on picking, you'll see one I recently saw at the Urban Market that caught my attention.  A white two story Victorian era cage, arched top, wooden, with disco balls hanging from the center.  I'm not a big fan of disco, but I have to admit, that would make quite the conversation piece for a room.  I've thought about it ever since.
I'm not sure what I would do with those pair I saw at the antique mall either. Perhaps I am thinking about a new collection!