August 18th, 2010 by
admin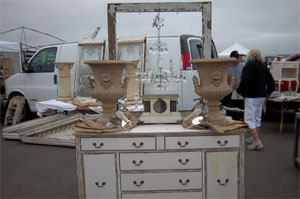 Recently I had the chance to attend the Alameda Point Antiques Faire in Alameda, California.  I had heard about the show from friends and thought I'd check it out personally.
Can you say "Pickers Paradise?"
The first thing I noticed was the size of the show.  On this particular day there were about 900 dealers exhibiting.
The show opens to the die- hard buyers at 6am (please note, this is no longer me!)  It costs a little more (entry fee) to get in that early, but is worth the investment.  Bring your flashlight!
The next thing that caught my attention was the varied array of merchandise.  Inexpensive to WOW!  American, Italian, French, German, etc.  Victorian, Modern and everything in between can also be found.
I spoke with Allen Michaan, the show promoter, who mentioned the show is vetted.  This I found surprising.  What an undertaking!  According to Michaan, everything must be pre-1970.  He spends his day looking to make sure the dealers all follow the rules.  If anything newer is found, he insists the dealer must put it away.  Anyone setting up with a full booth of new items is asked to leave.
This is a plus for dealers and buyers alike.  The dealers like keeping the show standard, as they know quality merchandise equates to more sales.  Buyers hate digging through new things to find the old.  It won't take long for customers of a show to spread the word when merchandise falls short of their expectations.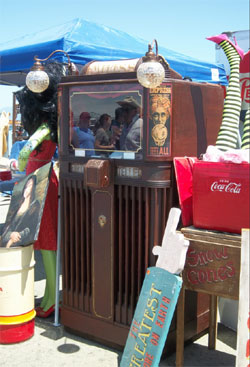 It was reported that over 10,000 visitors attended the show that day, and might I add they came to shop.  You saw plenty of people carrying bags (not just myself), armfuls of smalls and wheeling large pieces of furniture to their cars.  I saw a lot of things I wanted to buy, including the prop for The Wizard of Oz (the Wicked Witch of the West's legs!) and I also saw someone carrying them out!
The show is open one day a month.   As a dealer, you love this. It's a lot of work setting up and tearing down all in a day, however, you know the people that attend the show come to buy. They know they have little time to make up their mind and execute a purchase.
Alameda Pointe Antiques Faire is held the first Sunday of every month.  The dealers come from near and far, so don't expect to see the sale local dealer merchandise at the show you've seen in shops around the Bay area.
For more information, visit their website at:  ww.antiquesbybay.com