May 3rd, 2010 by
admin
The Sotheby's impressionist auction May 5, 2010, includes 6 Picassos, 2 Cezannes, 4 Miros, 3 Monets and 17 Wilners.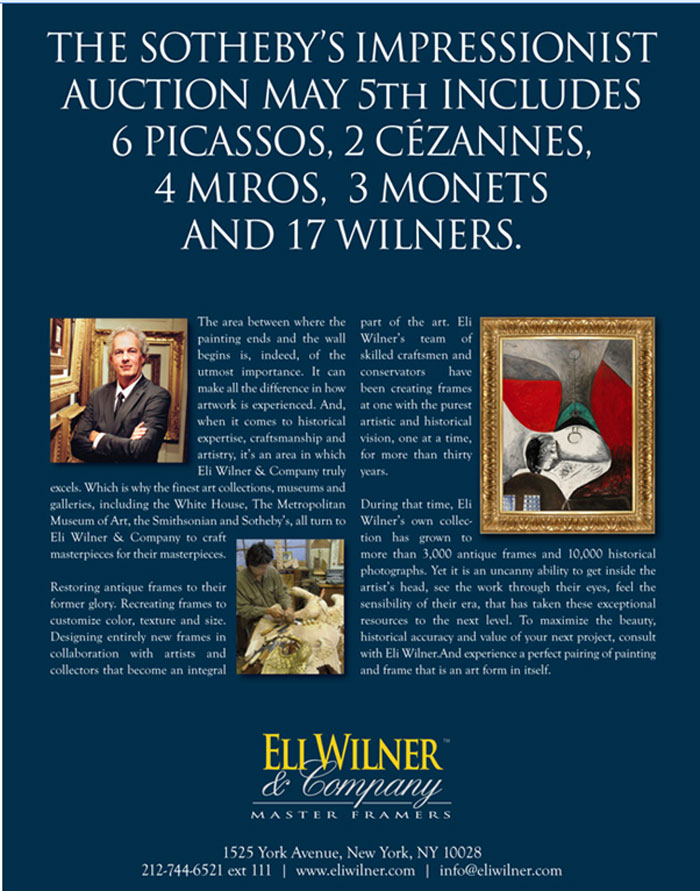 The area between where the painting ends and the wall begins is, indeed, of the utmost importance. It can make all the difference in how artwork is experienced. And, when it comes to historical expertise, craftsmanship and artistry, it's an area in which Eli Wilner & Company truly excels. Which is why the finest art collections, museums and galleries, including the White House, The Metropolitan Museum of Art, the Smithsonian and Sotheby's, all turn to Eli Wilner & Company to craft masterpieces for their masterpieces.
Restoring antique frames to their former glory. Recreating frames to customize color, texture and size. Designing entirely new frames in collaboration with artists and collectors that become an integral part of the art. Eli Wilner's team of skilled craftsmen and conservators have been creating frames at one with the purest artistic and historical vision, one at a time, for more than thirty years.
During that time, Eli Wilner's own collection has grown to more than 3,000 antique frames and 10,000 historical photographs. Yet it is an uncanny ability to get inside the artist's head, see the work through their eyes, feel the sensibility of their era, that has taken these exceptional resources to the next level. To maximize the beauty, historical accuracy and value of your next project, consult with Eli Wilner. And experience a perfect pairing of painting and frame that is an art form in itself.