May 12th, 2010 by
admin
Martignette Collection dominates top offerings; New all-time auction price records set for Enoch Bolles, Chesley Bonestell and Coles Phillips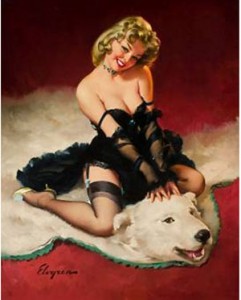 BEVERLY HILLS — Gil Elvgren's landmark pin-up, Bear Facts (A Modest Look; Bearback Rider), 1962, brought $191,200 in Heritage Auction Galleries Beverly Hills' record-setting May 6 Illustration Art Auction. The auction realized more than $3.4 million total, and continued the stellar rise of the Illustration Art market, dominated by the blockbuster Estate of Charles Martignette, which continues to produce examples and record prices. All prices include 19.5 Buyer's Premium.
"Bear Facts is a particularly important example from Martignette," said Ed Jaster, Vice President of Heritage Auctions. "Not only was it his favorite piece out of the more than 4,000 that he owned, it represents Elvgren at the peak of his powers and is viewed, by many, as the pinnacle of American pin-up art."
More than 1100 bidders competed – in-person in Beverly Hills, via Internet, mail, phone bidding and Heritage LIVE! – on the 670 lots offered. The auction saw more than 90% of prices realized by value and more than 95% by lot total.
The good name of Elvgren produced several of the Top 10 lots in the auction, including his evocative 1961 masterpiece Jackpot, from another consignor, which soared to a $131,450 finish against its base pre-auction estimate of $30,000. The painting was not only the subject of intense bidding during the auction, it was also one of the most actively watched paintings in the entire auction, garnering more than 9,500 pre-auction page views on HA.com.
A world record price of $80,663 was realized for Enoch Bolles' surreal October 1935 Sure to Make a Hit, Film Fun magazine cover, another of Martignette's most important pieces. Determined bidders vied for several minutes over the suggestive painting, driving it far above its' pre-auction estimate of $10,000-$15,000.
"Bolles' profile has been steadily rising over the last several auctions," said Todd Hignite, Consignment Director of Illustration Art at Heritage, "so it's not surprising that a painting like this – one of his best examples – would be subject to intense competition. This price shows that Bolles has stepped up a rung in hierarchy of great illustration artists."
Another of the few pieces to break the Top 10 lots of the auction that didn't have Martignette's name attached to it came in the form of Chesley Bonestell's Saturn Viewed from Titan, c. 1952, realizing $77,675.
"This iconic image is perhaps the most famous and recognized image Bonestell ever painted, having been used no less than in 10 different publications in its 60 years," said Jaster. "The painting represents the top offering in the auction from the famed Frank Collection, a gathering as important to sci-fi and fantasy art in its own right as Martignette's collection is to the illustration art genre."
One more record-setting painting also happened to be another of Martignette's favorites, Coles Phillips' 1922 Holeproof Hosiery Company ad illustration, one of the most famous images of the period, certainly one of the most controversial, and one of the earliest paintings that could be considered a pin-up. Amidst much wrangling from erudite collectors, it rose to a final price of $77,675.
Among others world record prices set for individual artists, demonstrating the strength of the Illustration Art market across genres, was one set for pulp cover artist Rafael De Soto's New Detective, pulp cover, January 1948, which realized $28,680, another for pin-up favorite Henry Clive's 1925 Sultana, calendar illustration, proving exceedingly popular with a record $22,705 final price and Golden Age great McClelland Barclay, whose Pictorial Review cover, September 1933, saw the same record price of $22,705.
Martignette's gathering of Alberto Vargas paintings was also amply represented in the auction with several important works, but perhaps none so much as Vargas' early, seminal circa 1932 watercolor, Reverie, which was the artist's top example in the auction, making its way to $77,675, more than three times its pre-auction base estimate of $18,000.
Further Highlights include, but are not limited to:
Rolf Armstrong (American, 1889-1960), Twinkle Toes, c. 1947: Pastel on board, 38 x 28.5 in., Signed center right. From the Estate of Charles Martignette. Realized $56,763.
J.C. Leyendecker (American, 1874-1951), Record Time, Cool Summer Comfort, House of Kuppenheimer ad illustration, c. 1920: Oil on canvas, 21.5 x 20 in. Not signed. From the Estate of Charles Martignette. Realized: $47,800.
Earl Moran (American, 1893-1984), A Mere Maid, Brown and Bigelow calendar illustration, c. late 1930s: Pastel on board, 38 x 29 in. Signed lower right. Truly one of the great pinups in all of the genre. This masterpiece is truly "the Great American Pin-Up" personified. Realized $35,850.
Heritage Auctions, headed by Steve Ivy, Jim Halperin and Greg Rohan, is the world's third largest auction house, with annual sales more than $600 million, and 500,000+ registered online bidder members. For more information about Heritage Auctions, and to join and gain access to a complete record of prices realized, along with full-color, enlargeable photos of each lot, please visit HA.com