Wedgwood Jasper Ware Lost Art & A Great Opportunity for Collectors
September 26th, 2012 by
admin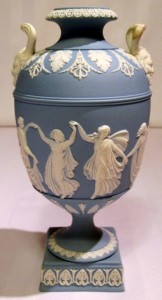 Since the 5 of January 2009, Wedgwood, Waterford and Royal Doulton has been sold K P S Capital Partners had purchased The English Manufacture works. Except for special orders and smaller ware in Jasper ware, Wedgwood jasper ware is NO LONGER produced in any volume .
Most ware are now manufactured outside of the UK by other locations  in the Foreign  Companies owned by the WWD ( Waterford-Wedgwood-Royal Daulton ) producing other wares and not the noted Jasper ware .
The more outstanding items, Larger Plaques, Portland Vases, tricolor works are still produced in the United Kingdom.  The sweet dishes, small plates, small vases that we see by the thousands are what has flooded the market and still can be found in the secondary auctions. These you find in so many auctions houses, on-line Auctions by the hundreds.
Special and outstanding ones can still be found on the Better Auction Houses and by dedicated Smaller Antique dealers.  The older vintage works can be purchased for far less than the new ones produced and available from the Wedgwood site in the United Kingdom.
"What a Shame, that the "Father of British Pottery" was a victim of the global financial crisis."
Josiah Wedgwood (July 12, 1730 – January 3, 1795, born Burslem, Stoke-on-Trent) was an English potter, credited with the industrialization of the manufacture of pottery. He was a member of the Darwin — Wedgwood family, most famously including his grandson, Charles Darwin.
Born the thirteenth and youngest child of Thomas Wedgwood III and Mary Wedgwood (born Stringer; d. 1766), Josiah was raised within a family of English Dissenters. He survived a childhood bout of smallpox to serve as an apprentice potter under his eldest brother Thomas Wedgwood IV. Smallpox left Josiah with a permanently weakened knee, which made him unable to work the foot pedal of a potter's wheel. As a result, he concentrated from an early age on designing pottery rather than making it.
In his early twenties, Wedgwood began working with the most renowned English pottery-maker of his day, T. Whieldon. There he began experimenting with a wide variety of pottery techniques, an experimentation that coincided with the burgeoning early industrial city of Manchester, which was nearby. Inspired, Wedgwood leased the Ivy Works in his home town of Burslem and set to work. Over the course of the next decade, his experimentation (and a considerable injection of capital from his marriage to a richly endowed distant cousin, Sarah Wedgwood) transformed the sleepy artisan works into the first true pottery factory.
To better appreciate the beauty and hand craftsmanship of these works please visit the two sites here;
Part 1-    http://www.youtube.com/watch?v=uy87Gd7kQpE
Part 2-    http://www.youtube.com/watch?v=w9E_BJgc3kM
Vintage works in Jasper Ware from the Wedgwood Manufacture can be seen at;
http://stores.ebay.com/Candlewood-Yankee-Fine-Arts/_i.html?rt=nc&_nkw=wedgwood&_sid=645563163&_sticky=1&_trksid=p4634.c0.m14&_sop=3&_sc=1
James Stow & Anthony Yau
Candlewood-Yankee Fine Arts