Vignos Estate Auction Achieves Over $3 Million
November 10th, 2011 by
admin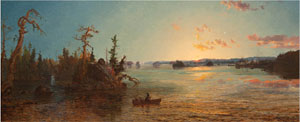 Jasper Francis Cropsey Sells For $660,000
Leslie Hindman Auctioneers auctioned the personal collection of accomplished Cleveland rheumatologist Dr. Paul J. Vignos Jr. to a packed room of bidders and thousands of others on the telephones and internet. The November 6-8, 2011 auction included American and European paintings and prints, English, French and American 18th and 19th century furniture, European and American silver, porcelain and glass, antiquities, sporting decoys and angling and fishing equipment.
Competitive bidding resulted in a successful sale total of $3,018,378 and set numerous auction records. John Bunyan Bristol, Gate, St. Augustine, Florida, sold for $73,200, becoming the highest price ever paid for a work by Bristol. Jasper Francis Cropsey, Dawn of Morning, Lake George, sold for $660,000, setting an auction record as the fourth highest price ever paid for a work by the artist.
Other highlights included William Trost Richards, Rocky Coast, sold for $170,800 more than doubling its estimate of $60/80,000. A Greek pottery skyphos, sold for $41,480 and a gilt and patinated bronze figural mantle clock sold for $34,160.
"Dr. and Mrs. Vignos were consummate collectors," said Leslie Hindman, President and CEO. "We are thrilled to have handled their extensive collection in a single-owner auction. The collection is reflective of their style: thoughtful, elegant and magnanimous."