Larry DeBaugh tapped to head Morphy's Coin Op & Gambling Machines division
November 10th, 2011 by
admin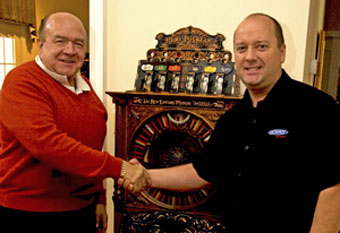 DENVER, Pa. – Veteran coin-op and gambling machine collector Larry DeBaugh has joined Morphy Auctions as head of the company's Antique Coin Op & Gambling Machines division.
"All of us at Morphy's are very pleased that Larry has agreed to join our team," said Morphy. "Larry has an excellent reputation among his peers and brings a lot of credibility to what we're doing. He has a passion for the hobby and will enable us to take the Coin Op department forward."
A lifelong resident of Baltimore, DeBaugh has collected slots and other coin-ops for the past 40 years. His fascination for the machines goes back to his childhood.
"In 1965, it became illegal to transport gambling machines across state lines, and outside of Nevada, Maryland was the last state where it was legal to operate slot machines," DeBaugh explained. "I can remember, as a boy, going to yacht clubs with my parents and seeing slot machines in play. Even after it became illegal, there were still places on Maryland's eastern shore that had them in operation. I was always fascinated by them."
While in his early twenties, DeBaugh bought his first slot machine. "After that, it snowballed," he said with a laugh.
In addition to collecting machines, DeBaugh amassed what may be the country's largest collection of original coin-op machine literature and gambling tokens. Having a natural mechanical aptitude, DeBaugh also learned how to restore machines that were no longer functional. "But the most fun has come from meeting other collectors at shows and auctions who share my interest in these machines," DeBaugh said.
Morphy's first specialty auction of coin-operated and gambling machines under the supervision of Larry DeBaugh will take place on March 17, 2012. The sale will feature machines from the collection of the late Frank Zygmunt Sr., a well-known Chicago-area collector whose name lives on through Zygmunt & Associates, the antique slot machine and jukebox business now run by his son Frank Jr.
To contact Larry DeBaugh, call 410-336-1728 or e-mail watling1@comcast.net.