Marburger Farm Antique Show in Round Top, Texas Sept. 27- Oct. 1
July 13th, 2011 by
admin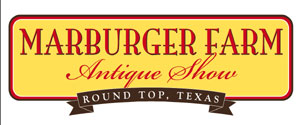 Yes, Scott, there are Second Acts in America
7/12/11 –Round Top, TX – The writer F. Scott Fitzgerald once quipped that "there are no second acts" in America, but the Marburger Farm Antique Show in Round Top, Texas knows better. When the blockbuster show opens this September 27- October 1 for its 15th fall edition, the keywords are: re-purposing, resilience and continuous renewal. Many of the nearly 400 exhibitors from 38 states and nations will arrive at this re-invented cow pasture with second acts in full bloom, plus plenty of antiques ready to start new acts in new homes.
Nance Harper of Atlanta trained as a chemist and ran a transportation company. On a business trip she found herself buying antiques in France and a new career called. "You have to have passion for what you are doing," says Harper. "That's what I like about the Marburger Farm Show— the customers have just as much passion about antiques as the dealers do. Clients at Marburger like truly old pieces. They are interested in the history of an antique and they want it in its true original condition—not gussied up."
What will Harper bring this fall? "I save the one-of-a kind pieces for Marburger," she reports. This will include French architectural fragments from the exterior or interior of old buildings. "I'll have three 18th c. architectural fragments long enough to go over doors or to be re-invented as a console base, in original blue paint, bluer than the sky, close to Robin Egg's blue, but deeper."  Also in tow will be an 18th c. carved wood wall bracket, long and wide, with the most beautiful two angels faces that I've ever seen. You just want to gaze at it. It's spellbinding." Sounds like the chemist found her passion.
Many dealers at Marburger Farm were educators and lovers of history, such as retired teacher Linda Wilder of A Wilder Place in Time. She can teach you about English ironstone china coming over as ballast in ships and being packed deep in covered wagons moving west.
Or, after viewing Marburger Farm's herd of Longhorns, you can learn more about cattle from Darvin King of Georgia's Antiques from Abilene, Texas. When not loading step-back cupboards, King loads his cattle for top Cutting Horse events. The dealer next to him is upstate New York cowboy Patrick Kenny of South Porch Antiques and chief beef cattle judge for the New York State Fair. Step just across the aisle and retired pastor Jan Orr-Harter won't have any cows, but she will offer a 1970s Milo Baughman cocktail table in burled wood and stainless steel.
From the Chicago area, Mitch and Marcia Weisz of Ameritiques arrive at each twice-yearly Marburger Farm show with a different mix of eclectic finds from the upper Mid-West. "We're opportunists," says Mitch, whose first act in life was as an attorney. "We bring the best we can find, whatever it is." This time they stumbled across a community that amassed religious artifacts and equipment to found churches from about 1920-1960. "There's chalices and statues and enough embroidered vestments to outfit 40 priests," says Mitch. His wife Marcia, a former CPA, will bring Halloween and Thanksgiving postcards c. 1900, plus so much costume jewelry that they are thinking of selling it by the pound. "We find that everything we bring that can be re-purposed into something else always sells well in Texas," reports Mitch. Law and finance may have been more lucrative, he goes on, "but antiques are more fun. And Marburger Farm is the most fun show out there. In the entire country, there is nothing comparable to Marburger Farm."
Marburger Show co-owner Rick McConn traded in a career trading energy commodities for hosting the tens of thousands of shoppers who visit Marburger Farm's ten enormous tents and 12 restored historic buildings, all overflowing with antiques of every style, era and price-range. Along with Co-owner Ashley Ferguson, whose first act was interior design, McConn works to continuously enhance the mega show. This fall improvements include a new mobile web site for smart phones and a new show blog, both accessed from www.roundtop-marburger.com—plus  Marburger's pending appearance on a reality TV show. Even more treats include air-conditioned restrooms, free wifi, three food pavilions and the Blacksmith Bar with wine, cold beer and "Marburitas."
For the second year, a portion of the fall show ticket sales will benefit the Houston Affiliate of Susan G. Komen for the Cure. "No one knows more about rebuilding lives than the Susan G. Komen organization," says Ashley Ferguson. "We are thrilled to lend our support and welcome them to the show." Look for the Race for the Cure sign-up tent at the show.
Among other special events this fall will be a book-signing by Leslie Sinclair of her new book, Segreto – The Secret to Beautiful Finishes, with 300 pages of photographs of homes whose wall finishes have been re-imagined to complement antiques, art and a love of texture and patina. Leaving a corporate career in communications 16 years ago, Sinclair founded Segreto Finishes in Houston, now the largest plastering company in the region. Many homes in the book feature antiques found at the Marburger Farm Antique Show. "Marburger has such diverse range," says Sinclair. "You can shop all over the world—or you can shop at Marburger Farm."
Of course, the dealers of Marburger Farm do shop all over the world. Suzanne Fox of Santa Monica, CA will fill her booth in Marburger's Silver Dollar Saloon with English antiques and art for homes and gardens. Shoppers will not only take home her transfer-ware, Staffordshire, sterling and garden urns, they will also take inspiration from her display. For 25 years, and still part-time, her first act as a retail store designer led her to tackle some of the biggest luxury shopping venues in Southern California. Look for the Silver Dollar to shine! "I bring my best to Marburger, I pack it in and I design it differently each time," says Fox. "I'm delighted by Marburger Farm because of loyal customers and because so many new customers in their 20s and 30s are shopping there—families, kids, all ages. The Marburger Farm Antique Show is for everyone."
So first act, second or third, get yourself to Marburger Farm. Take that, F. Scott Fitzgerald!
The Marburger Farm Antique Show opens Tuesday September 27 for Early Buying from 10 am until 2 pm for $25 admission. Regular $10 admission begins at 2 pm until 5 pm that day. Your admission is good all week and parking is free. Shopping continues on Wednesday, Thursday and Friday from 9 am until 5 pm and on Saturday, October 1, from 9 am until 4 pm. For maps, photos and information on tickets, groups, the Marburger Café, on-site shipping and special events, see www.roundtop-marburger.com