MARBURGER FARM ANTIQUE SHOW MARCH 29 – APRIL 2 IN ROUND TOP: Going to the Dogs!
January 25th, 2011 by
admin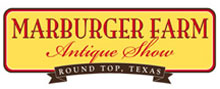 1.24.11 Round Top, Texas – The Marburger Farm Antique Show is going to the dogs—- and the designers and the dads and the moms and the kids— and to anyone up for a fun way to feather their nest. The spring show in central Texas opens Tuesday March 29 and runs through Saturday April 2.
"When a show is dog-friendly," says exhibitor Rebecca Looten of Monsoon Imports, "you know it's also shopper-friendly." Her yellow lab Marley will greet shoppers from one of the dog beds that Looten creates from antique altars. Buying in Rajasthstan, India for nearly a decade, Looten offers wooden and stone artifacts such as carved deities, rain cisterns, architectural fragments and marble serving platters. Looten plans to fill platters with refreshments during Marburger Farm's benefit evening for Texas Children's Hospital on Tuesday March 29.
Whether you bring your pooch, your pal or your kids, Marburger Farm is just plain bliss. "Spring is a luscious time in Texas," says show co-owner Ashley Ferguson. "The pastures are full of bluebonnets and baby cows. People from all over America throw off winter and come looking for garden antiques and furniture for indoor-outdoor entertaining. Our goal is to have the best antique show in the nation, which includes giving shoppers the best memories and inspiration and enjoyment."
With over 350 dealers on 43 acres, Marburger Farm consists of a not-so-small world of its own. Ten super-size tents and 12 historic buildings spill over with antiques from French to Fifties.
"One thing that makes for a great show is happy dealers," says show co-owner Rick McConn. "Even with the huge truckloads of antiques coming in, we do all that we can to reduce the stress of set up. Then we do all we can to enhance the event for everyone." This spring look for three food and beverage pavilions by Austin caterer Sterling Affairs, plus a bar in the Blacksmith Shop serving wine, ice-cold beer and "Marburitas". An on-site shipper, free Wi-Fi, comfort stations, free parking and a parking shuttle service all add up to a stress-free event for shoppers too. "And we are packed," says McConn, "with bloggers and shoppers coming from around the nation."
But bluebonnets and bloggers aside, the main attraction is the stuff. What's coming?
Ender Tasci of Elephant Walk Antiques in Orlando will arrive with a collection of 17th – 18th c. trunks from Spain, plus a pair of large 18th c. gilded fragments from Italy. "The minute I leave Texas, I start missing Texas," says Tasci. "For six months, I am living and breathing Texas to get ready for the next Marburger." Being ready this time includes transporting to Marburger Farm all the fixtures from an old wine shop in the south of France, including wood work counters for use as buffets and nine feet tall wine storage cabinets for use as cupboards and armoires.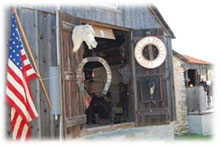 Al Linder of Northfield, MN also thinks big. "I'm bringing a primitive barn cupola, a full set of windmill blades, ten feet across, and a nine foot long quarter-sawn oak workbench for a fantastic kitchen island." Why make the long trek to Texas? "In other states," says Linder, "people look at these big industrial pieces and say to their friend, 'What are you going to do with that?' In Texas, people say, 'If you don't buy it, I will.' I always look forward to Marburger Farm."
Don Orwig of Corunna, IN agrees. "Spring at Marburger Farm is our top show of the year. We plan on doing a lot of business," says Orwig, who will unload a box truck of industrial antiques, store counters and advertising signs. He'll have factory pieces re-furbished for homes, such as work tables to be used as dining tables and bookshelves made from factory flooring with metal sides from old iron bridges. Also arriving with Orwig will be a set of 70 matching bistro chairs that he bought from a restaurant in Paris.
Paris may never be the same after the winter shopping maneuvers of a band of Marburger Farm dealers. "We're going to shop our hearts out," says Stephanie Talley of Fluff Antiques. "We're all looking for wonderful smalls, art, textiles, jewelry and anything eccentric that we can get back to Marburger Farm." Of the shopping gang, jewelry dealer Janet Waldrop of Skip 2 My Lou Antiques is the most experienced at shopping in France. "Janet keeps coaching us on how to shop without being conspicuous foreigners," laughs Talley. "But just wait till that Texan opens her mouth!"
Single-minded shopping, months of preparation and many miles characterize over 350 Marburger Farm exhibitors who will alight near a herd of longhorns with everything from investment antiques from Sweden to mid-century modern antiques for new collectors. In the mix will be creative and mind-boggling displays in each booth, making for room settings of visual wonder.
Peg Van Dyne of French Vanilla Antiques will bring her new golden retriever, Emma, who color-coordinates with the neutral and calming tones of Van Dyne's always-scrumptious booth. What's coming along with Emma? "I'm starting with a clean slate and a light palette," says Van Dyne. "I'm going on a big buying trip and coming straight to Marburger Farm full of surprises."
So come for surprises, for the sunshine and for the stuff. The Marburger Farm Antique Show opens for Early Buying with $25 admission on Tuesday March 29 from 10 am through 2 pm, when regular $10 admission begins. Tuesday evening, extended shopping hours until 7 pm will directly benefit the Texas Children's Hospital with a portion of  the entire show's proceeds  benefitting Texas Children's Hospital. Admission is good all week, with the show running on Wednesday, Thursday and Friday from 9 am to 5 pm and on Saturday, April 2, from 9 am to 4 pm. Admission is free for children 15 and under and dogs on a leash are always welcome.
See information on vendors, travel, maps, lodging, shipping and special events at roundtop-marburger.com or call Rick McConn at 800-999-2148 or Ashley Ferguson at 800-947-5799.
CONTACT:
Rick McConn  713-703-6371
rick@marburgershow.com
Ashley Ferguson  800-947-5799
ashley@marburgershow.com
roundtop-marburger.com