Picking With Reyne – Vol. 20
September 28th, 2010 by
admin
On Friday I ventured down to Round Top, Texas to tape another video segment for my "Art of Picking" series here on Antiques.com
It was a setup day for many of the fields; however there were a few open for business.
I'm not sure when antique dealers became interior decorators, or if this is more a sign of the times, but I was amazed at some of the things I saw.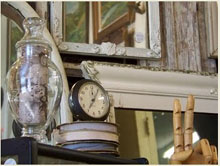 I've been attending antique shows for the past 20 years.  Some were indoors, some outdoors, some high brow, and some just an over-rate thrift shop.
Back in the day, it seemed only the high brow shows had dealers setting up booths as "interiors".  What I mean by that is they were more like a room setting out of a magazine than a dealer setting up a weekend booth to sell their wares.  There were walls, with colorful paper hiding the pegholes of the board that held the fine art hanging on it.  Sideboards with candlesticks and antique frames with vintage images inserted.  Dining room tables and chairs with a fantastic chandelier hanging over the center of it and an array of Meissen plates and vintage Steuben stemware used as place settings.
The middle of the road to lower end antique shows offered booths filled with tables, risers, and display cases filled to the brim with "stuff".  The people were friendly enough (well most of them) and they were there to make a deal.
When I first started selling at shows back in I think it was 1992, my friend Rosemary and I used to comment all the time about how people had no vision, and you really needed to show them how something would look in their home.  Your booth display was half the sale.  I know some people like digging through stuff to find the gem, but most people enjoy looking at beautiful things, displayed with like items, or in a way that makes sense.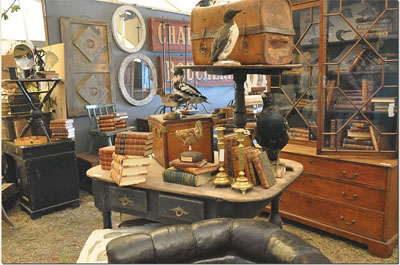 Anyhow, back to my story…dealers at the Round Top show, one after another, had been setting up their tents with interior type scenes.    Many of the booths looked like a photo straight out of Country Living magazine.
The sheer volume of repurposing was mind blowing.  It was as if everything in the world had a second life again.  I loved it! (Can't ya tell?)
Who needs Martha Stewart to show us how to turn "everyday" items into something spectacular??
All I know is these guys are teaching you "Decorating 101" while selling you a piece of history, and they have certainly got "Marketing 101" down pat!
Happy Hunting!
Reyne