Reyne Gauge: Halloween Isn't Just for Kids!
September 21st, 2010 by
admin
Halloween has long been my favorite holiday.  As a kid, my brother and I created haunted houses with our neighbors, weird "goo" for kids to have to stick their hands in that we called brains.  Scary costumes and creepy music and the day/night were complete.
As an adult, I guess I never grew out of wanting to create creepy scenes, and come up with a "to die for" costume.  Some of my favorite outfits were Bride of Frankenstein, complete with a early 1900's wedding dress and veil.  Mommy Dearest with a great 50's outfit, bob black wig, and martini glass and wire hangers to carry.  I went to an event as Christina Applegate one year when she was on Married with Children. (My friend went as her mother on the show, we were quite the hit!)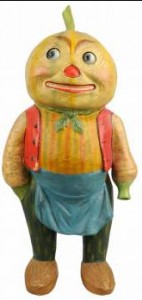 One thing I never collected, though always wanted to, was vintage Halloween items.  Papier-mache pumpkins, black cat noisemakers, old costumes… I will admit I have bought numerous vintage Halloween postcards over the years, mounted them on to black stock cards and sent them to good friends.
Apparently I am not the only kid trapped in an adult's body with a passion for Halloween.  The folks at Dan Morphy's Auctions (www.morphyauctions.com)  shook the trees and managed to find hundreds of enthusiasts who were willing to plunk down serious money for a Halloween "treat".
The sale consisted of 887 lots, (Halloween AND Christmas items), and brought $370,000.  There were 100 people in attendance, 150+ on the phone and over 400 on the Internet vying for the holiday goodies.
One of the top lots was a German veggie man, complete with radish arms, and a watermelon head.  As a bonus it also had eyes that moved from side to side.  It was thought to be a store display.  It had a pre-sale estimate of $10,000-20,000 and brought $19,550.
And what sale would be complete without one of those papier-mache lanterns I have always wanted.   They had a 7.5 inches tall one with a comical grin that was estimated at $2,500 – $3,500.  It sold for $10,350.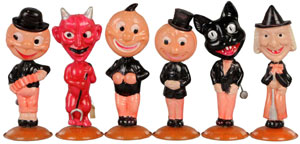 The same price was achieved for a set of nodders; which included a witch, a cat, devil, and three pumpkin heads.  I don't think my bobble head doll has ever sold for that kind of money!
It's safe to say this week when I attend Round Top, I'll be on the hunt for some unique Halloween items to help decorate my home this year.  Knowing there are reproductions of these items, I hope to not be "tricked".
Happy Hunting!
Reyne