Reyne Gauge: Corvette Craze
September 7th, 2010 by
admin
Anyone that knows me knows my love of Chevy Corvettes.  I've had one as my daily driver for years and one day plan to add a '63 Split Window (black on black of course) to my garage of toys.
My passion for 'vettes began as a kid. My mother drove a 1975 Corvette, bright blue with blue leather interior.  My mom didn't just drive a 'vette, she knew plenty about them as well.  Anytime we were out driving around, she'd test me on what year the Corvette was we'd pass in a parking lot or pulled up beside us.  I knew the answer every time as she had taught me all the tell tale signs for what changes had been made each year.  I also loved the camaraderie we had with other 'vette owners.  You always gave the "peace" sign to each other as you passed on the road. It was like some secret club that only we knew about.
We also belonged to the San Jacinto Corvette Club in Houston, Texas.    They met monthly, and had car shows and race events periodically.  I loved walking a parking lot filled with vettes.  With a variety of models and paint jobs, I was in heaven.  And who can resist the roar of a big block engine on the track?  My mother used to drag race her 'vette while I sat in the bleachers cheering wildly!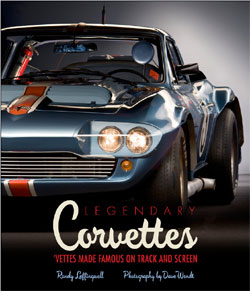 Perhaps that's all a little TMI, but it's how I became so crazed about anything Corvette related; including literature.  Recently I caught wind of a new publication titled "Legendary Corvettes": 'Vettes Made Famous on Track and Screen. Just what I need, another book to tempt me into acquiring another car. (Ok so it's not that hard to tempt me)
For starters, the book offers a cover that doubles as eye candy to peak the readers interest, and then opens into a poster, perfect for framing and hanging in the garage for motivation!  Inside, the book covers 18 of the most prized Corvettes of all time; from the early models (and yes, there is a chapter on the '63!) to the 2009 Blue Devil.  I have yet to drive one of those – have you?
The book starts at the beginning and details how the Corvette came to life, other sports cars being produced at the time, and the people involved in bringing the Corvette to the production line. You get an understanding of what Chevy was up against in the racing world, and what they were willing to do to create a "Super Sports Car".
Did you know they made a right side steering wheel Corvette?  Ok, well not a production car.  Did you ever catch the Mark Hamill movie "Corvette Summer"?  Do you remember the Indy Pace car?
I could go on and on about what you'll see if you buy this book, but I don't want to give away all the highlights (and there are plenty!)
The book is written by Randy Leffingwell and photographed by the very talented Dave Wendt.   It offers 175 pages of full color drool factor.  This would make a great gift for that Corvette enthusiast in your life, or would impress your guests while sitting on your coffee table.
"Peace, Love & Corvettes"