Marburger Farm Antique Show – Special Events Fall 2010 – Round Top, TX
August 24th, 2010 by
admin
Tuesday Sept. 28 – Saturday Oct. 2
1. Extended Shopping Hours Tuesday Sept. 28 until 7 pm to benefit the Houston Affiliate of Susan G. Komen for the Cure. Food and beverages will be available, enjoy shopping in the early evening at Marburger Farm and support a great cause. A portion of the show proceeds will be donated to the Houston Affiliate of Susan G. Komen for the Cure.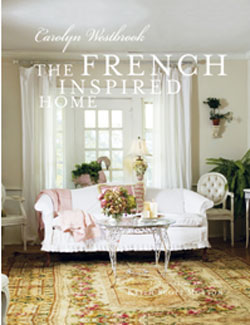 2. Book-Signing for The French Inspired Home, new book by designer Carolyn Westbrook (CiCo Press). Carolyn will greet shoppers on Tuesday, Sept. 28 in the Special Events Tent near the Show Office from 11 am to 3 pm. Ask for her secrets on "How to Shop French at Marburger Farm."
3. Food & Libations – New this show – beer, wine and margaritas. Enjoy a cold one in the Blacksmith Bar located on the Promenade.
4. Insider tips: In addition to the ten tents of vendors, be sure to visit vendors in the twelve historic buildings at the show. Many offer air-conditioning. All shoppers will receive "The Howdy"—the official guide to Marburger Farm with maps and vendor locations. Also look for the red magazine racks filled with free publications on antiques and home decor. The 43 acre site of the Marburger Farm Antique Show includes an ATM, air-conditioned restrooms, free wi-fi, free parking and a courtesy shuttle to and from the parking area.
5. The Parisian Cowboy's Guide to Round Top, featuring many Marburger Farm exhibitors, will be available for purchase.
6. Register for the daily cash drawings by placing your admission card in the "Marburger Mailboxes" or at the Show Office front porch. Also stop by the Office for a Susan G. Komen for the Cure inspired T- shirt or a Marburger Farm "Peace, Love & Antiques" T-shirt.
7. Media: KTEX 106.1 FM Radio will broadcast live from the show on Friday afternoon Oct. 1.
Enjoy the music and free prizes, including Marburger Farm souvenirs.
8. More Media: On Thursday the Junk Mafia, based in Kansas City, will be at Marburger Farm spreading the word about antiques with their mantra – Re~Cycle * Re~Love * Re~Deem and Re~Spend.  Be sure to come by the media tent located on the Promenade while they broadcast the Junk in My Trunk Radio Show from 10 am to 11 am.   Their broadcast will be streamed on their website, www.JunkMafia.com, and also on the radio waves in Kansas City.
9. Guest Bloggers: Join Fancy Smith from CactusCreekDaily.com and other bloggers in the lounge, Blacksmith Bar or café to keep your readers up to date. Visit the Cactus Creek website for information on free tickets to the show.
10. Marburger Farm is available to host your next event. During the antique "off season," you can book weddings, receptions, reunions, graduation parties, birthday parties, anniversary parties or other events. For information, see marburgerfarmevents.com or call Rick McConn at 713-703-6371 or Deborah Bradley at 979.702.1933.