Picking with Reyne – Vol 10 – By Reyne Haines
July 2nd, 2010 by
admin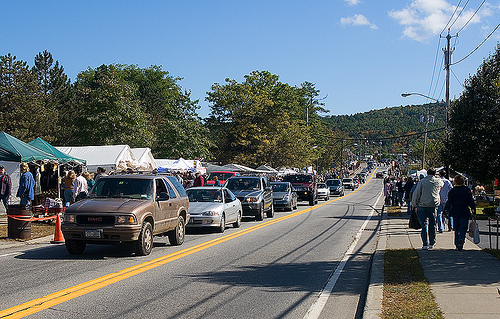 Mark your calendars for August 5 – 8th. Set aside whatever you think you should be doing, check the oil and tires on your car, load up and head out to Hudson, Michigan, or Gadsden, Alabama, whichever is closest.
The stretch of road down US-127 is the Ultimate Collector Destination. This 675 mile highway becomes "The World's Longest Yardsale" during those dates.
Originally, the idea of having the long yard sale was to bring visitors to the less traveled highways of Tennessee and Kentucky. It has grown considerably from its humble beginnings in 1987.
This event has become so popular; it even has its own Facebook page!
Rachel Ray's show covered it in 2008 – click here to see:
A few things to make sure you bring with you should you hit the highway:
1. Bring cash – many people won't take checks or credit cards. There is often no cell service in the rural parts of US127 and therefore credit card machines, etc will not work. Plus, as we all know in this business, cash talks!
2. Handi-wipes are your friends. I hate to say it, but you're going to get a little dirty digging through all the goodies in search of your diamond.
3. Packing containers and wrap: You don't want to buy something great and have it rolling around in your vehicle. Bring boxes, bubble wrap, newspaper, etc so that your finds are safely stored until arriving home.
4. Reference guides – as I said earlier, cell service is not always available, so if you are hoping to use the Internet browser to search for values, you might be out of luck in some places. Bring your reference guides for backup!
5. Your patience – the traffic can be horrible. Bring an extra bottle of patience and if you find yourself running low – stop by one of the food vendors, grab a bite to eat, visit with others there dining and your mood will be back to happy in no time!
Do you live along this highway? Have you ever shopped and scored? I'd love to hear your stories from this once a year hot spot.
Happy Hunting!
Reyne