Picking with Reyne – Vol 9 – By Reyne Haines
June 28th, 2010 by
admin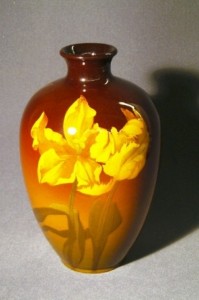 Knowing what sells best from one place to another can greatly help you in your antiquing adventures.
For example, if you happen to be a buyer of Depression Glass or American Art pottery such as Roseville or Rookwood, picking in Ohio would be the way to go.  Both items were made in that region, so it can easily be found in flea markets and yard sales.
This can also be a little tricky.  The common pieces can often be found for a song, but because the items are made in that region, people are also pretty knowledgeable about their values, so the rarer colors, patterns, artists, shapes can also be found, but only purchased at a retail price.
The same can be said for visiting markets in New York. You might be more apt to find European antiques, as many people relocated to New York from abroad over the last 100 years.
The same would not be said for areas like Alabama, Mississippi, Texas or Louisiana.  Instead, you would find French antiques, great silver, Southern art, and also black memorabilia.
Try to keep these same thoughts in mind when hunting new areas.  Meaning, if you are in California on a picking adventure, and you come across a painting by let's say a New Hope, PA artist, you might be able to buy it for a song.  That artist wouldn't be as desirable as it would be if it was selling in the region the artist was from.
This can also apply when buying from one region to the next.  For example, Scandinavian mid century modern items sell very cheaply abroad, yet command strong prices here in the US.  For years, many American dealers have traveled across the pond loading up containers full of European antiques to sell for a handsome price at their stores and at shows in the US.
What do you find selling strongly in your region?
Reyne