Picking with Reyne – Vol 7 – By Reyne Haines
June 11th, 2010 by
admin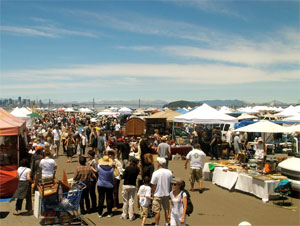 There are antique markets, and then there are ANTIQUE MARKETS.
What sets them apart? A few things actually:
The number of dealers:  If you've seen everything in an hour, the show's either new, or it's a bust.  Size matters.
The type of merchandise: Shoppers need a lot of eye candy.  No one hitting an "antique market" wants to see a bunch of new merchandise they can get at TJ Maxx or Restoration Hardware.  If you have to have newer merchandise, separate the dealers. Put newer more "decorative" dealers in one area and the other area should be all antique/vintage dealers.  Shoppers never like to have to wade through the new to find the old.
The show promoter:  What does he/she have to do with anything other than to sell booth rent and tickets?  Plenty!  Their marketing efforts to get dealers to sell at their venue for one.  And those same marketing efforts to keep said dealers by bringing in tons of buyers.  Lots of buyers + lots of dealers = Lots of sales and return visitors.
I wanted to highlight a GREAT antique market for everyone out on the West coast (and those of you considering a trip).
Alameda Point Antiques & Collectibles Faire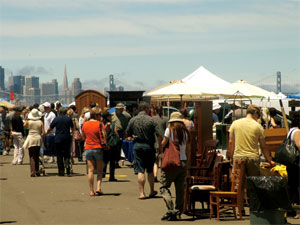 This show is the best the bay area has to offer.  Located at the former Alameda Point Naval Station (the show is setup on the runway) with the best view of the bay!
The show happens once a month, and last weekend was tremendous!  They had 800 dealers setup, and 10,100 attendees and they were carrying lots of bags out the door. That tells me there were lots of great items to be had!
If you missed last weekend's event, their next show is July 4th, and then August 1st, September 5th and October 3rd.
And if you do attend, I want to hear about it.  Tell them Picking with Reyne Haines sent ya!
Do you have a favorite antique market?  Tell me about it here!  I also love hearing about your flea market and antique market finds.
Happy Hunting!
Reyne