Picking with Reyne – Vol 5 – By Reyne Haines
May 28th, 2010 by
admin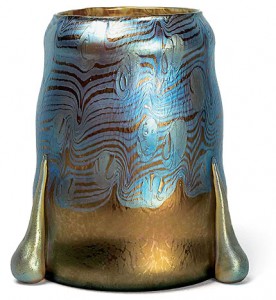 First of all, I wanted to thank everyone for reading my column and commenting on things. Your input is not only appreciated by me, but by other collectors who are reading.  Your suggestions have been great, timely and informative!
In last week's column, Marko asked me a question that inspired this column.  He asked: "What was my favorite find and why?"
I briefly elaborated but I thought I'd go into a bit more detail here for those who catch my reply last week.
I used to run ads in the Antique Trader. For those of you who have been in the antiques world for a long time, most dealers and collectors used to consider The Antique Trader the bible. It came out on Monday every week and we all anxiously waited for the mailman to deliver it in our mailbox.
You'd rush home, and flip to the classified section in the back to see who was selling what.  This was pre eBay, pre online antique malls, digital photos, etc.  (And keep the comments to yourself, I'm not that old!)
You read listings in black and white text and had to envision what people were describing, or even if what they were describing was real.  Anything that sounded good, you picked up the phone and called on.  Time and again I'd call on things and they were already spoken for.  DRATS!
I met many pickers through this publication which was great. They went out picking all week long and would call me when they found something on my "want list".  Some could describe things to a "T" and knew exactly what I was looking for. I'd buy it just from their descriptions and rarely if ever was disappointed.
I decided I'd place a display ad in the WANTED TO BUY section of the paper.  "Buying Tiffany lamps, glass, bronze and other art glass items."
One day I was heading out to lunch and I received a phone call. I almost didn't answer it because I was running late.  I grabbed the phone and it was an elderly man on the other line saying he saw my ad in the Trader.  This always got me excited. You never knew what those kinds of calls might bring.
He began describing an all too familiar piece of Steuben glass; a console bowl in amber with threading and controlled bubble decoration. It was worth about $250 and was not very exciting to me.  I told him I'd call him later in the week as he was about 40 miles out of town and he wanted me to come by and see it.
I almost forgot to call him, but when I finally did I arranged to go take a look.  There were a few small antique shops I hadn't visited in some time along the way and I thought I'd make a day trip out of it.
I got to the gentleman's house and low and behold, it was exactly the bowl I envisioned it to be.  YAWN.
I decided I'd buy it as I had already driven all the way out there. Boy was I glad I did. Once I made the purchase he asked me if I bought other art glass and he pulled out a decorated tendril Loetz vase which is on the cover of one of the Loetz books.  I was shocked.  I asked if he was a collector, to which he said no.  Of course my next question was "Did you inherit these items?" to which again he replied no. He then pointed and said "I found them in the barn in the back."
You just never know what you might find in the barns of a country home!
I'd love to hear more about your favorite finds.  Comment here with your stories!
Happy Hunting!
Reyne