Charlton Hall presents their 80th Anniversary Auction on Artfact Live!
May 24th, 2010 by
admin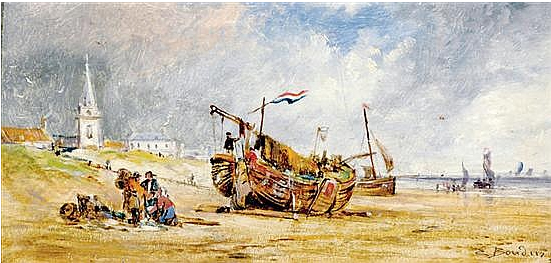 (Boston MA) Artfact wishes to express "Congratulations" to Charlton Hall on their 80th Anniversary!
We are pleased to announce that the 80th Anniversary Auction on June 5 and 6 is available for online bidding exclusively through Artfact Live! The 2 day auction offers over 1,000 lots including: fine art, jewelry, furniture, carpets, silver, timepieces, ceramics and much more. If you can't join the live auction action in West Columbia, South Carolina, visit , or its sister site in the UK, Invaluable.com, to login or register free to bid live online at this exceptional auction. If you're not ready to bid, simply watch the activity live from the auction floor using the Artfact Live! console.
Highlights of the sale include:
DAY1:
The top lot of the sale is Lot 58, a beachscape by the French painter Eugene Louis Boudin (1824-1898). The oil on panel depicts a ship beached near the community of St Pierre, it is framed, signed & dated: lower right, "E. Boudin, 93." Bidding will begin at $24,000 for this work.
Lot 97 is a Tiffany & Co diamond engagement ring. The center is occupied by a 2.35ct emerald-cut diamond (color F-G, clarity VS1), flanked by fourteen round-cut side diamonds (0.39ctw, color H-I, clarity VS1) all mounted in platinum. The ring is signed Tiffany & Co and fits ring size 6. Bidding will open at $8,500.
DAY2:
The top lot of day 2 is a painting by native South Carolinian Elizabeth O'Neill Verner, Lot 663. The piece shows the city of Charleston across a marshy "Bay View." It is executed in pastel on silk and measures 23 by 29 inches. Minimum bid for this work is $10,000.
Also of note in the Sunday session is Lot 600, a rare southern stoneware slave-made face jug. Created in Bath, South Carolina circa 1860, it features a tooled spout above a pulled and applied handle continuing down to applied and sculpted facial features. The face has a ghoulish appearance with prominent ears, eyebrow ridges and kaolin highlighted eyes and teeth. Bidding will commence at $7,500.
To research any category of items available at auction, view over 50 million auction price results and over 500,000 artist pages, visit http:/www.artfact.com and search the industry's leading auction database. For instance Eugene Boudin's artist page features over 1300 past auction prices, a biography, works currently at auction, descriptions of the genres in which he worked and links to similar artists.
Since the departure of eBay Live Auctions, Artfact Live! has taken the lead in the live auction arena by partnering exclusively with the world's most prestigious auction houses to host their online auctions. As it continues to build the world's most affluent and knowledgeable bidding community, Artfact offers free registration, offering unlimited access to Artfact Live! partner auctions and free searching of the past 12 months of price results in its auction records database. Artfact's Advanced Search allows users to narrow searches by entering keywords, price range, auction date range, or auction house name.
About Artfact
Founded in 1989, Artfact is the largest global marketplace of fine and decorative arts, antiques, collectibles, and estate auctions. On January 1, 2009, Artfact launched Artfact Live! and Invaluable Live!, its proprietary live auction bidding platforms, enabling users to bid in real-time on auctions being held around the world by its prestigious auction house partners. Currently, over 1,000 fine auctioneers actively list their catalogues with Artfact.com and its U.K. sister site Invaluable.com, reaching the Artfact community of more than 10 million knowledgeable collectors and dealers worldwide. Artfact's industry leading database includes more than 57 million complete auction results totaling more than $204 billion in value, including information on more than 500,000 international artists. In 2006, Artfact acquired RFC Systems, the leading provider of enterprise software developed specifically for the fine art and antique auction house industry. RFC helps prestigious auction houses around the world manage their businesses by automating their day-to-day operations.
Editor's Notes
– Additional background information available.
– Interviews with Doug Ellinger, VP Marketing, dellinger@artfact.com, (617) 746-9882
– Complimentary media subscriptions to the Artfact database available.