One Man's Love of Toys Goes Beyond His Day Job – by Reyne Haines
May 20th, 2010 by
admin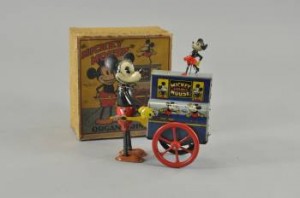 Wouldn't it be great if you were surrounded by toys every day when you arrived at work?  Toys bring out the kid in everyone.   We can walk through an antique shop and see a toy from our childhood and immediately we respond to it.
Donald Kaufman was certainly a kid at heart.  His passion for toys could be seen in his business, K-B Toys.  Not only did Kaufman love new toys, but he had a soft spot for vintage toys as well.  Unfortunately, Kaufman passed away in October 2009.  His personal collection of vintage toys has been consigned to Bertoia Auctions.  There were so many, they have been broken down into 4 sessions.
The first three sales exceeded their pre-sale estimates and achieved a cumulative total of $9.3 million dollars.
How serious are toy collectors?  Well, let's just say that ash from the Eyjafjallajökull volcano in Iceland couldn't keep collectors from bidding.  It certainly posed a problem for those hoping to attend the sale, but it didn't snub their excitement about the items up for bid.  Bertoia's accepts Internet bidding and also accommodated phone bidders.  With that said the 3,700 lot sale brought strong prices and closed with $2.38 million in total sales.
Many of the toys in the sale were produced by Distler, Gunthermann, Eberl and Tippco.  These names might not hit home with you, but their toys certainly should.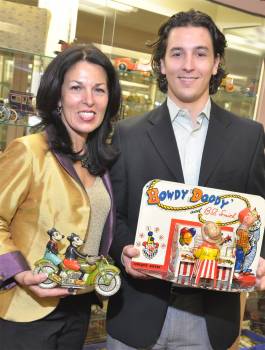 Tippco produced the circa 1932 Mickey & Minnie Mouse motorcycle that was the highlight of the sale.  This single toy managed to bring $65,550 (including buyer's premium).  That's more than the cost of a new Harley!
Another great Mickey & Minnie Mouse piece in the sale was an organ grinder from 1932 made by Distler.  It was estimated to sell for $10-12,000 but the hammer fell at $19,550.
I'm sure you remember pedal cars right?!  This sale offered a 1924 American National Packard version that sold over the phone $38,000.
If you missed this sale, don't fret!  There is one more sale from this great collection coming this fall.  Get on the mailing list at Bertoia's to be notified when the next catalog is available.
Bertoia's – http://www.bertoiaauctions.com/
On a final note, not only do toys bring out the kid in you, they apparently attract young collectors too.  The youngest collector on the floor was a 14 year old boy, who dug deep in his pockets to purchase one lot from the sale which contained two Hubley toys.   You're never too young to start collecting!