Marburger Farm Antique Show Brings out the Best
May 18th, 2010 by
admin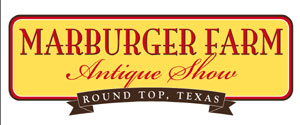 Buyers and Sellers Enjoy Spring Blockbuster in Texas
4.21.2010 Round Top, TX  — Was it the aroma of wildflowers? The full moon in the Texas sky? The perfect weather? Or was it the mountain of antiques that set off a shopping frenzy at the March 30-April 3 Marburger Farm Antique Show in Round Top?
"I've never seen anything like it," said first-time exhibitor Jeff Littrell of Atlanta, "except perhaps the 'running of the brides' at a Filene's Basement sale. It was the most fun I've had in 30 years in the business."
In a Texas cow pasture that blooms with antiques twice a year, customers arrived by SUV, by pick-up truck, by bus-loads of moms clubs, school clubs, groups of realtors and re-unions. Some customers even arrived by helicopter— not the first time that the 350+ dealer blockbuster show has used its helicopter parking zone.
"It's been a long winter for America," said show co-owner Rick McConn. "People were ready for some fun. We had the most out-of-state buyers ever, international buyers, stores buying containers of inventory and lots of kids, strollers, families, sometimes three generations together. It was a record Marburger Farm attendance. We ran out of tickets at the gate."
"I wrote so many receipts that I had writer's cramp in my hand," complained a happy Larry Arnold of Colorado. "On opening Tuesday we had lots of first-time Marburger shoppers and lots of people at their first antique show ever. But on Wednesday morning early, when things were quieter, a woman from Austin stepped into my booth and bought 49 pieces of silver. She had never been here before."
Long-time Marburger exhibitor Lowell Dunn of Canterbury Court Antiques also noted the change. Selling English furniture, Imari and Staffordshire, Dunn reported that "We always do well at Marburger, but this time we sold to lots of new customers. People are wanting value for what they are spending. They found it at Marburger Farm."
The new shoppers reflect the show's outreach through the internet and high-end consumer publications. The magazine Cowboys & Indians came to see what the ruckus was all about. The Maine Antique Digest sent their "Young Collectors" team, Andrew Richmond and Hollie Davis, to report on the show. Washington state bloggers Linda Albers and Dixie DeRocher came to blog the show for the first time. "We're updating Facebook as we go through the Marburger Tents," said Albers. "People are going nuts for Marburger Farm."  As CactusCreekDaily.com put it, "Marburger Farm—the best of the best."
The Special Events Tent at the show featured Jo Packham, founder and editor of the magazine Where Women Create. Packham greeted shoppers in a fictional woman's workshop created entirely out of antiques from Marburger Farm by nationally-known designer Gina Galvin. Galvin's own workshop was featured on the Spring cover of the magazine. "There are more younger people here than I have ever seen at an antique show," she said.
"I love those young women," said Bushnell, FL dealer Buffy Charboneau, who sold an extensive collection of gold-filled Victorian bangles, many engraved with old-fashioned names. She also sold retro 1950s silver necklace and earring sets, as well as copper hand-hammered Arts and Crafts era lighting and accessories. "It was really surprising to see the younger generation interested in older things. We should have started doing this show years ago!"
Dealers reporting excellent sales included Richard Auber of Stonington, CT who sold an American chest of drawers, a French armoire, a Black Forest carving and a triptych oil painting by New York artist Frank Vincent DuMond.  Karol and Tom Streling of Kawadin, Michigan, sold primitives, Americana and an agricultural potato processing machine to be re-purposed as a table.
John Sauls, co-founder of the Marburger Farm Antique Show, had his best-ever Marburger opening day, selling quilts, quilts and more quilts. Another long-time Marburger dealer, Georgia Morel of New Roads, LA, also reported strong opening day sales of lighting, garden artifacts and industrial antiques. "I needed that shot in the arm," she said. "We all did."
"My favorite story from the show, however, was not opening day," reported Morel. "At the fall show a woman had fallen hard for a railroad cart in my booth. She kept coming back to look at it to use as a coffee table, each time saying it was too expensive. After the show, her husband called and asked if he could pay over time and have me bring it to the spring show as a surprise birthday present for his wife." Every month, Morel said, the man sent a check with the reminder that it was a surprise and to bring it with a red ribbon. At the show, the cart stood for three days in Morel's booth with a card and red ribbon. All the dealers in the tent knew of the plan. On the third day of the show, the woman came to look at it again and saw the card with her name. She started crying, and all the nearby dealers rejoiced with her. "I was crying too," said Morel. "It was such a gesture of love."
Atlanta exhibitor Brian Kelley says that Marburger Farm brings out the best in both customers and dealers. "We all save our best merchandise for Marburger Farm because we know that Texans appreciate quality antiques." Kelley sold a seven foot tall 18th c. Italian mirror and every Italian crystal chandelier that he brought. "Marburger Farm," he said, "is one of the few shows in the country that has lots of energy every day. We sell every day, right up to the end. But one of the reasons that Marburger continues to draw huge crowds on opening day is simply this: the show is strict on security and no one gets in before the opening day. Customers know that the show is full of the best merchandise that we can find."
After selling more than her share of French fautiels on the farm, Jeanne Tardif, also of Atlanta, summed up the week by saying that "Marburger Farm Antique Show is the best show out there."
Come see for yourself. The Fall 2010 Marburger Farm Antique Show runs Tuesday September 28 through Saturday October 2, 2010. You can be there! For information on vendors, travel, maps, lodging, shipping and special events, see www.roundtop-marburger.com or call Rick McConn at 800-999-2148 or Ashley Ferguson at 800-947-5799.