Picking with Reyne – Vol 3 – By Reyne Haines
May 13th, 2010 by
admin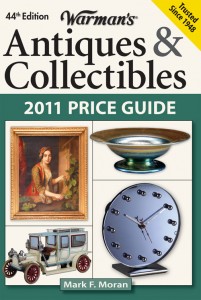 Last week we touched a bit on some of the things you will need when hitting this summer's flea markets.   I thought I'd expound a little more on a few of these areas.
Let's face it; knowledge is power in the world of collecting.  It doesn't matter if you are a dealer, or a collector – you need to know all there is to know about the items you are buying.
What you don't know can cost you money.  No one likes making mistakes, but you are going to from time to time.   When on the road searching for those elusive treasures, you need backup.  What do I mean by backup?  A variety of tools that can help you make a wise purchase, or ones to stop you from making a bad one.
So what tools am I talking about?
Bring along an array of pocket guides that will help you quickly look up items for additional information on size, colors it was made in, period it was made, any significant markings to look for, and reproduction information.  There are several publishers that have paperback guides you can throw in the backseat of the car for quick reference.  Krause Publications offers their pocket-guides online at http://www.krausebooks.com/category/antiques_collectibles
A measuring tape can not only tell you the size of an item (I don't know about you, but I am terrible at guessing the size of something) but it can also tell you if a piece has been cut down, or if it is a reproduction.  Many items were originally made in very specific sizes, and reproductions of these items are usually a little smaller or a little bigger.  By measuring the item you can often tell if the one you are looking at is new or old.
A cell phone or I-pad.  Not only can you "phone a friend" but you can take a quick digital photo to show a friend or customer of an item you are considering.   Beyond the photo capabilities, you can hit the Internet to research current market value.
Where to research?  There are lots of places you can go to find price realized on collectibles.  eBay of course is one place for more common items, but many of the auction houses have online catalogs with prices realized.  You can do a few keyword searches on places like Sotheby's and Christie's for free.  If what you are looking at falls somewhere in-between eBay merchandise and Sotheby's worthy, try purchasing a subscription at Artfact.com or Priceminer.com.  Both sites offer photos, item descriptions, estimates and prices realized on a variety of art, antiques, collectibles, jewelry and more.
By arming yourself with these tools you certainly stand a better chance of paying the right price when you come across your next treasure!
Did you think of a tip I missed?  Make sure to comment here!
Happy Hunting!