Picking with Reyne – Vol 2 – By Reyne Haines
May 7th, 2010 by
admin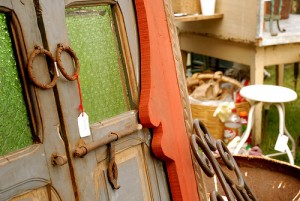 As summer nears, we find more outdoor flea markets and antique markets opening with more dealers and larger crowds.  Surely there is a bargain out there to be found!
Before you set the alarm the night before, what are some "tools" of the trade you need to make sure to have with you on your picking journeys?
Below is my list, and I'd love to hear some of yours!
A good night's rest.  All serious buyers know the early bird finds the Declaration of Independence hidden in a frame behind the cheap painting.  If you arrive later in the day, all you will find to buy is a grilled burger and a Coke.
Comfortable shoes.  Now, I am the first one to wear heels at the airport, walking around New York City, and to the grocery store, but I draw the line with flea markets and antique shows.   If the show is any good, you'll be walking for miles; and if you are an early bird you will be running once the gates open!
Cash – The offer to pay in cash can often get you a better deal than paying with a credit card or check.   In fact, there are many dealers that don't take other forms of payment.
Your cell phone!  Most phones have internet browser capabilities should you need to do some quick research.
A pocket size measuring tape.  If you are trying to determine if something has been cut down, or if you want to call a client and sell an item on site, you'll need to know what the measurements are.
A loupe.  This handy little pocket magnifying glass helps you read hallmarks, tiny script signatures, and also helps us find chips & cracks and repairs which can often be hard to spot at first glance.  There is nothing worse than getting home with your bag full of goodies only to later determine there was a hairline crack you missed!
A portable black light – Restoration can be easily missed, especially in the early morning hours.  Black lights give you the ability to spot restoration to paintings, pottery, glass, and more.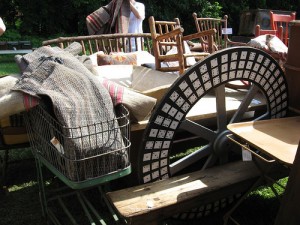 I would love to hear some of your picking tips – respond to the blog here!
Flea Markets – Antique Markets for the month of May:
Urban Market – Houston, Texas  May 15-16th
Brooklyn Flea – Brooklyn, NY – Every Saturday and Sunday