Action Comics #1-24 bound volumes – Superman's first two years – expected to bring $200,000+ in Dallas Auction
April 29th, 2010 by
admin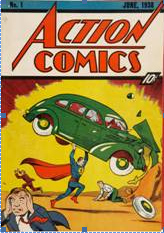 Action #1 Court Copy, Jack Kirby's bound Captain America Volume, 9.4 Zap Comix #1, all part of Heritage Auctions May 20-21 Comics event
Dallas, TX – Two bound volumes of Action Comics #1-24, the first two full years of the Superman saga that would change the world of Pop Culture forever, will anchor a deep lineup in the May 20-21 Signature® Comics and Comic Art Auction at Heritage Auctions, in-person in Dallas and live online at HA.com. The volumes are estimated at $200,000+.
"This has the potential to be one of the highest-dollar lots we've ever sold," said Ed Jaster, Vice President of Heritage Auctions. "They're surely the most desirable bound comic volumes in existence. Even more, these stand out not only because of which comics are inside, but because of their amazing condition. This is the comics equivalent of the Gutenberg Bible."
To the seasoned collector the condition of these comics will come as a major surprise: the earliest and most valuable issues (#1-12) have consistent page quality right to the edges, along with superbly preserved covers that match or exceed the best individual copies of the same issues that Heritage's World Class experts have seen to date.
"Consider the challenge of trying to assemble this run by pursuing individual copies with comparable eye appeal," said Barry Sandoval, Director of Comic Auctions Operations at Heritage. "Even if the expense were no factor, issues such as 2, 5, 8, 10, and 13 are almost never offered for sale, and holding out for bright copies, with excellent eye appeal, is simply unrealistic."
Another very significant copy of Superman's first comic, the famed and intriguing Action Comics #1 Court Copy, follows close behind the top lot, and brings an absorbing history with it. It is estimated at $150,000+.
This comic is designated "the Court Copy" because it was used as evidence in DC Comic's 1939 lawsuit against Fox and its character Wonder Man, claiming copyright infringement. When all was said and done, the judge did indeed issue an injunction "forbidding the further publication" of Wonder Man.
"This was a significant moment indeed, as future court battles were looming," said Jaster, "above all, the one against Fawcett and the hugely popular and bestselling Captain Marvel. This lawsuit against Fox was also notable for underscoring the fact that there was money to be made publishing comics, and not just with established characters, but also with a new creation such as Superman, then in print less than a year."
One of the most special lots in the entire auction is Jack Kirby's own Bound Volume of Captain America #1 and #3-10, with great original drawings in it by The King himself. Gracing the front and endpapers of this volume are four outstanding drawings featuring Steve Rogers; Cap, Bucky, and the Red Skull; Cap and Hitler; and Bucky, respectively. The Cap and Hitler drawing was used as the cover of The Jack Kirby Collector #12.
"No comic fan could fail to love seeing art by the King at the peak of his powers, together with key early published work by the Simon and Kirby team," said Sandoval. "Combine that with the fact that Kirby obviously owned the book at one time, and you've got one of the more fascinating lots in the auction."
The Detective Comics series is, of course, most famous for its 27th issue, the first appearance of "The Batman," but the earlier issues are highly prized by advanced collectors. Those same collectors will have a rare chance in this auction to bid on and possibly acquire the first two issues of this famed series, Detective Comics #1 and Detective Comics #2, both unrestored and both estimated at $25,000+.
Heritage set the record price for an Underground comic in 2009 when it sold a CGC 9.2 Zap Comix #1 for more than $13,000, a record that is almost certain to fall when Heritage offers a CGC NM 9.4 graded Zap Comix #1, First Printing – Plymell Edition (Apex Novelties, 1967). It is estimated at $20,000+.
"The record price for this historic Underground will be shattered again, as this is the nicest copy Heritage has had the pleasure of seeing to date," said Jaster. "This comic is the one that launched the Underground Comix movement, and it features Robert Crumb stories, cover and art."
Heritage is also presenting an item much scarcer than even Action #1 or Detective #27 in Shadow pulp #1, 1931, a pulp magazine as influential as any of the two aforementioned comics and certainly much harder to find. It is estimated at $10,000+.
"This condition of this book is pretty hammered, but it's still the first we've ever had," said Jaster. "This is an item that even some of the world's most elite collections lack."
Original comic strip art collectors have already sat up and taken notice of two originals of Gary Larson's The Far Side, one of the most beloved daily comics of the 20th century, which are notoriously tough to come by because Larson kept almost all of his art. They both feature Larson's signature wit and inimitable style and are estimated at $5,000-$10,000 apiece.
Other highlights of the auction include the Gary Keller collection run of Adventure, great art by Frank Miller, Todd McFarlane, Michael Golden, Neal Adams, Dick Sprang, Robert Crumb and much more.
Heritage Auctions, headed by Steve Ivy, Jim Halperin and Greg Rohan, is the world's third largest auction house, with annual sales more than $600 million, and 500,000+ registered online bidder members. For more information about Heritage Auctions, and to join and gain access to a complete record of prices realized, along with full-color, enlargeable photos of each lot, please visit HA.com.