Reyne Gauge – Bankable Antiques – by: Reyne Haines
April 16th, 2010 by
admin
As children, we rarely gave thought to caring for our toys. They were made purely for our entertainment, and not to be dusted and kept on the shelf.
I had my share of Barbie's who's hair was cut, colored with a magic marker, and occassionally chewed on by the dog.
My brother could tell you all about flipping baseball cards, creating racetracks for his Matchbox cars and the autographs he collected over the years being a serious sports fan.
Sometimes, when I see a toy I played with as a kid in an antique shop it makes me pause. I wonder, had I taken care of those Barbie's – what would they be worth today? How many rookie cards did my brother bend, tear and flip that would add up to some serious coin now?
Gone are the days for the $6.00 Barbie. Now, they are designer inspired and can cost a few hundred dollars right off the shelf. How can you justify spending that price when you know they are going to take them out of the box, lose those "designer" shoes within the first week, and potentially get a fresh look by your daughter and a pair of scissors?
Will these toys increase in value over time if you buy them, and place them on the shelf only to be admired from afar?
I don't have a magic 8 ball to answer that question, but recently I read a press release about a few toys that have increased, just a little, since originally sold.
If you are interested in recreating your youth (or perhaps the youth of your grandparents!) take a look at the upcoming toy auction at RSL Auctions on May 22nd:
The sale consists of 360 lots, which translates to, something for everyone.
A portion of the collection up for sale came from Richard Stevens, an avid mechanical bank collector. Stevens was known for buying only the best. The best meaning the rarest, and those in the best condition.
A few of the best items in the sale are: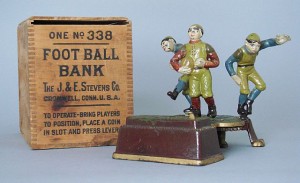 J&E Stevens "Calamity" cast iron mechanical bank. This bank comes from the ex-Stephen Steckbeck collection. It still has it's original box! Estimate: $60-90,000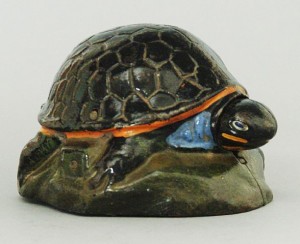 A very rare circa 1930 Kilgore cast-iron Turtle bank. Formerly in the collections of Stan Sax and Gertrude Hegarty. Estimate: $50-70,000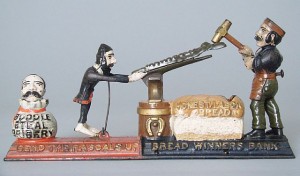 Circa 1886 – J&E Stevens "Breadwinners" cast-iron mechanical bank in near mint condition. Estimate: $90-120,000
I would have to imagine when these were first produced, the cost was a few dollars (if that).
80-100 years later, their value has increased exponentially!
I find it a bit ironic. A toy created to help children save their money becomes more valuable than the coins placed in it.
Happy Hunting!
Reyne