SPORTS COLLECTING WITH JEFF FIGLER
March 2nd, 2010 by
admin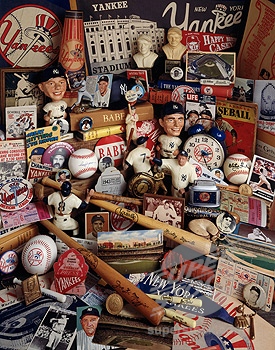 In this initial blog, I will first introduce myself, and then discuss a little about the state of the collectibles industry. In addition, I do encourage anyone to keep in contact with me at: colllectingwithjeff@sbcglobal.net.
Whenever I am asked about how and when I got started collecting sports memorabilia, I quickly respond by saying that I have been doing so all my life. True story. The fact is that my Mother never threw away my baseball cards. My Mother, who is ninety years old and still going strong, is quick to say that she knew that they would be valuable one day. I don't mind giving her the credit. Many, many people wish that their mothers had the same "insight". My collection, and subsequently my museum, started with those cards, as well as from two other sets of circumstances.
First, having been born and raised in St. Louis, my Father was friends with Bob Pettit, the St. Louis Hawks basketball player, and one of the all-time NBA greats. Pettit gave me some items which are now part of my collection. Second, my museum, which consists of not only sports memorabilia, but presidential/historical, and pop culture memorabilia, was helped by the fact that my cousin Marshall Leib was a founding member of the music group The Teddy Bears ("To Know Him Is To Love Him"), and I have some items from that group. And oh, by the way, another of the founding members was Phil Spector.
My column on sports collecting is carried by the St. Louis Post-Dispatch. In addition, I write for several publications on sports collecting. I am also a syndicated talk host on the Sports Byline Radio Network, and can be heard every weekday on nearly 700 stations worldwide. In addition, I have the pleasure of giving presentations aboard cruise ships and groups on sports collecting.
Whew! So what is the state of the sports collectibles industry? Strong. Just to give one example, the baseball that Yankee Alex Rodriguez hit for his 500th homerun was recently auctioned for $103,000. Sure, Tiger Woods' memorabilia has declined in value, but overall the state of the industry is strong.
I welcome any readers to stay in contact with me. I will also be glad to give you my opinion as to the value of an item you may have.