A Look Inside the World of Edward Wormley – by Reyne Haines
January 19th, 2010 by
admin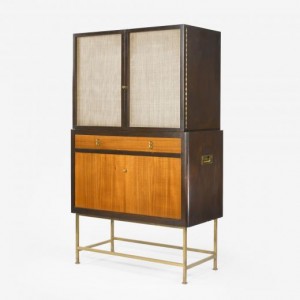 Edward Wormley; a household name in the Mid Century Modern crowd.  He was a major influence on American design.
Wormley was born in 1907.  As a young child, he developed polio, which hindered his ability to walk until the age of 5.  This would be a mere speed-bump in Wormley's life.  In 1926 he attended college at the Art Institute of Chicago.  By 1928 he was working at Marshall Field & Co, then later for Berkey & Gay in Michigan.
Wormley's first taste of furniture design was in 1930 when he traveled to Paris and met designer Emile-Jacques Ruhlmann.  Upon his return to the United States, he went to work at the Dunbar Furniture Company.
Wormley had a unique style that combined the look of historical furniture design with a modern feel.  This catapulted his line of furniture at Dunbar and poised him as the premier modern furniture designer in America.
His line of furniture was limited to an output of only 150 pieces a year.  Soon he would branch out beyond furniture into decorative arts such as textiles, carpets and lighting.
In 1944, Wormley decided he would focus on strictly "modern" design.
According to Wormley, "Modernism means freedom – freedom to mix, to choose, to change, to embrace the new but to hold fast to what is good."
From 1950 to 1955, some of Wormley's designs were showcased at the GOOD DESIGN exhibition put on by The Chicago Merchandise Mart and the Museum of Modern Art in New York City.  At this time, he was the design director for Dunbar.  The exhibit at the museum would recognize him as a master of modern design alongside other important designers such as Harry Bertoia, Charles Eames and George Nelson.
Wormley had a passion for the works of Louis Comfort Tiffany. He collected Tiffany lamps and art glass.  Soon he would begin adding elements of Tiffany's "Art Nouveau" glass into his furniture.  Tiffany tiles were imbedded into Dunbar's "Janus" line of coffee tables and side tables in 1957.  Wormley was also a fan of the pottery of Otto Naztler.  He would eventually incorporate Naztler tiles in his furniture like he did with Tiffany in the "Janus" line.  Collectors today pay very strong prices for these designs.
Wormley also had an interest in European furniture.  At one point, he convinced Dunbar to make modern reproductions of furniture by Richard Riemerschmid of Germany and Jean-Michel Frank of France.  The attention to detail was so great; one of the Riemerschmid chairs was placed in the Riemerschmid family museum.
While Wormley worked with Dunbar for over 30 years, he still found the time to collaborate with other artists.   He served as an instructor at the Parsons School of Design. He was also the recipient of the Elsie de Wolfe award.  The world lost a great designer in 1995.
Purchase Reyne's new book "Vintage Watches" by clicking Here