Martha Sturdy…Design Diva! By Matt Burkholz
January 18th, 2010 by
admin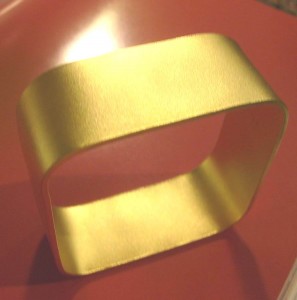 I visit Vancouver British Columbia a lot these days. It's a spectacular city of urbanity, snow capped mountains, bays and an incredible sophistication that's a melting pot of Canada, Asia and the United States. While shopping there, an activity always a part of any trip someplace new, I discovered the jewelry designs of Martha Sturdy. I knew I had discovered something that was exquisite in line and form, projected a distinctly glamorous tone and elicited a zen like response from my left brained persona. Working in a highly sculptural manner, rarely using embellishment, the facility with which this designer worked with geometry, metal and finishes blew me away.
Martha Sturdy, was probably Canada's most noteworthy home and design diva, having achieved recognition not only for her jewelry, her first venture back in the 1970's, but additionally, for a plethora of furniture designs, accessories, lighting, art and sculpture that she had been creating in her hometown Vancouver since the early 1980's. Her story reminded me of Martha Stewart, our American goddess of everything domestic, and also of the UK designer, Terrence Conran, retail home goods impresario.
What the jewelry and the story of its designer most reminded me of was my great first discovery, the 1950's copper jewelry of Jerry Fels, of Matisse/Renoir of California whose work I featured in my book "Copper Art Jewelry: A Different Lustre" (1992). He later went on to found Artisan House and take the moniker JERE, and evolve into the master of modernistic metal wall sculpture throughout the 60's through the 90's. A jewelry designer, artist and sculptor all rolled into one. It seemed to me that in the work of Martha Sturdy's 1970's jewelry creations, I had found my new synthesis of art, jewelry and design AND a new passion.
Sturdy had always been drawn to Asian influences, recalling that as a child, she had coveted a pair of embroidered Chinese slippers and had made her first purchase a tiny Chinese black wooden stool, "There is an influence in the simplicity of Asia that I love, and editing out everything and making it clean and simple is one of the things I strive for in my work"  ORIGINALITY was her mantra, and doing her own thing, for Martha, meant creating designs that were not strictly jewelry, but wearable art. This sensibility was fresh in the late 1970's and led to immediate commercial success, allowing her the ability to work not only with jewelry, but with larger scale work. She states unequivocally that the furniture and objects she created in her burgeoning career years, were directly connected to her jewelry designs, in that both are marked by a comfort with simple lines, Asian influences and geometric clarity.,
As I traveled around Canada, I began to acquire more items. Sleek square bangles in both shiny and matte gold finishes, burnished antiqued bronze drop earrings hugely long,  wondrous cuffs -simple,  striking and of a wearable style I knew would appeal to MY customer. Occasional use of semi-precious gems like carnelian and onyx were under-statedly present. Sometimes utilizing resin elements, reminiscent of my beloved  bakelite jewelry, for Martha, foreshadowed her future endeavors in making dramatic resin accessories and furniture. In short, all the elements of her future designs, were evident in miniature in her jewelry. Understandable why an afficionado of  bakelite and mid century design would CONNECT with this designer, and these pieces?
"It looks aggressive, but soft… sexy, but strong…I LOVE that kind of contradiction!"
Martha Sturdy was inducted into the Royal Canadian Academy of Arts and in 2001, received the BC Achievement Award of Distinction and was named one of the top 20 designer/artists to watch for in the next decade by Metropolitan Home magazine. She was awarded her a Doctorate in 2006 for her lifetime of achievement in the fields of Art and Design, and her body of work, stands up to the test of time and achieves a truly timeless tone.
As I say when I offer it in my Palm Springs shop, "it looks so 70's at one glance, utterly ancient in another, and is of such lucid design… futuristic too , ultimate space age 21st century style."   Yes…I say that…and do so with confidence that the lady captivated by the beauty of the bangle or earrings she's trying on will purchase them, love them and then, go out and find more!