A Little Excitement at the MET – by Reyne Haines
January 18th, 2010 by
admin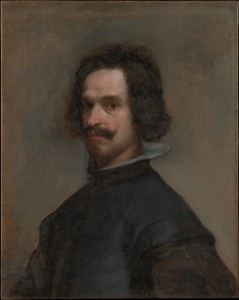 There is always something new to see at the Metropolitan Museum of Art in New York City. It is certainly one of the most recognized museums in this country, offering some of the most important permanent and traveling exhibits for the entire world to see.
For years, the MET has displayed a work of art, thought to be by "The Workshop of Velázquez".  The painting was donated to the museum in 1949.
The painting was darker than those painted at the hand of Diego Rodriguez de Silva y Velázquez.  Therefore, the lead authority on Velázquez's work in the 1960s downgraded the painting to be "The Workshop of" instead of by the master himself.  In 1979, the museum downgraded the painting as well.
The painting had been heavily restored and cleaned in the 1920s. It had be revarnished in 1953 and again in 1965 (hence its darkened color).
Recently, the museum began to catalog its Spanish works.  The chairman of European paintings, Mr. Christiansen, asked the chief conservator at the museum, Michael Gallagher, to take another look at it.
As Gallagher observed the painting closer, and began to slowly clean some of the older yellowed tarnish away, there were signs that this painting would have been painted at the hand of Velázquez, not a generic workshop.
After spending more time restoring the work, they became convinced the work was by Velázquez.    They took the work to the leading expert, Jonathan Brown, who agreed.
Velázquez was a master painter; however he created very few works during his time (1599-1660).  It is estimate there are only 110-120 known paintings by this artist.
What is interesting about this story is the provenance that came with the painting when it was donated to the MET.  It was left to the museum by one of its major donors, Jules Bache.  Bache acquired the painting from Joseph Duveen, a very recognized dealer in the 1920s. Before Duveen, the painting was owned by Count Johann Ludwig von Wallmoden-Gimborn.   It was sold to Bache as a self portrait of Velázquez.   Bache paid $1.125 million dollars for the painting at the time.   The painting is thought to be worth approx. $40 million today.
Recognized 20th Century Decorative Arts Expert and Appraiser.  As seen on CBS "The Early Show" and NBC's "The Art of Collecting". Haines has written numerous articles and books on collecting. Her most recent pubication is "Collecting Wristwatches" for Krause Publications which comes out April 2010.  Reyne is a frequent appraiser on PBS Antiques Roadshow.