Charles Hollis Jones – by Matt Burkholz
January 11th, 2010 by
admin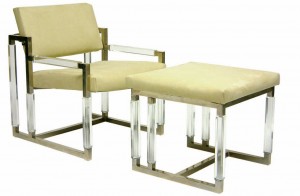 As a longtime dealer and collector of antiques specializing in fine bakelite jewelry and objects, I'm basically a 20's-40's deco dude. I've always been drawn to mid century modern furniture, and I've studied and lectured about the all the classics; Breuer, Saarinen, Eames, Nelson…..but the quintessential purist machinist design aesthetic and the non-ornamental nature of most modern furniture left me a little under-done.
That is…until I moved to Palm Springs, bought a 1961 Meiselman mid century home and opened a new shop. I wasn't organically oriented enough to immerse myself in woodsy modern like Finn Juhl or Nakashima, but when I pondered what would dovetail best with my love of bakelite,  particularly transparent varieties, it became all too CLEAR that acrylic (read trade name LUCITE-PLEXIGLAS-PERSPEX) furniture was the natural dovetail to my passion for plastic. As an epicenter of modern furniture collecting, I was instantly educated by my MORE modern Palm Springs pals about the work of Charles Hollis Jones. Jones is THE preeminent 60's and 70's designer of acrylic furniture who still lives in Los Angeles and visits Palm Springs frequently. He is often acquiring items of his earlier design from dealers, and still offering new and exciting 21st century custom commission pieces. As a result, I went about my culling and shopping with a new zest for the material, and particularly Jones' designs.
In my research, I learned in 1961, Jones founded CHJ Designs and began designing department store furniture and accessories; small tables, mirrors, waste baskets and display cabinets. Bullock's Department Store was the first to order his work. Two years later, Jones moved from his native Indiana to Los Angeles and began working for Hudson-Rissman, an esteemed furniture accessory showroom in trendy West Hollywood. Within six months, he was appointed chief designer and began creating his signature acrylic and metal furnishings. Jones left Hudson-Rissman in 1972 and has since headed his own firm specializing in custom furniture commissions. Innovations in methods of manufacture by aviation giant Swedlow products (whom he formed a short lived partnership with) allowed Jones' work to display new superior concepts of bending and joining,  design thicker and  larger scale pieces and  add dimension and utilize only an ultra super clear material that allowed the designs to evolve into even more highly sought after, decorative, modern and luxuriant works. His desire to let the material "carry the light" made it resemble glass and crystal more than less sophisticated examples of plastic. His sensitivity and respect for the material allowed him to transport it from a novelty into a more validated medium in the creation of modern furniture and design. He worked in combinations of acrylic with brass and/or chrome, as well as not eschewing the comfortability of upholstery to actually sit upon, yet also looked at the material as purely a sculptural form, intrinsic in its fluidity and sense of continuity.
The celebrity following which naturally occurs when working near Hollywood was a natural boost for Jones' international reputation. His exploration of acrylics and metal have won him numerous awards and earned him many accolades. The Los Angeles Times refers to Jones as a "pioneer in acrylic design" and Dona Meilach, author of Creating Modern Furniture (Crown Publishers, 1975) considers him a "master designer" and "literally a virtuoso in the application of plastic sheet to contemporary furniture design."  His Edison Lamp, with its acrylic shade paying figural homage to the light bulb was among the first designs he received the Brilliance in Design award from the German government for, as well as home grown recognition with its inclusion in the California Design Exhibition of 1970. His "Metric" line of metal and acrylic chairs and tables was given an award of Excellence by the La County Board of Supervisors in 1976, and most deservedly, he was rewarded in 2004 for his Lifetime of Achievement with the Product Designer of the Year award.
Often given the moniker "The Ace of Acrylic", Charles Hollis Jones and one of his pals have been in my shop, seen the examples of his designs that I offer, and have relished other lucite, resin, bakelite, and acetate furniture items and objets d'art offered in my shop. As a pioneer in luxury plastics, I felt enthused as well as honored that the mix and blend of my 30's and 40's bakelite items in combination with his 60's and 70's acrylic creations coalesced into a look and totality that he found aesthetically pleasing and chic. In other words, homogeneity is not a necessity….don't be afraid to utilize a great acrylic chair or singular lucite furniture item along with your other 20th century modern essentials, the mix of textures, colors, tones and materials only adds richness and flavor to an ornamented layered sense of design and decoration. Go forth and find your own light in the lucid clarity of acrylic, especially when it's the work of Charles Hollis Jones.