How to Sell Fine Jewelry – by Reyne Haines
January 5th, 2010 by
admin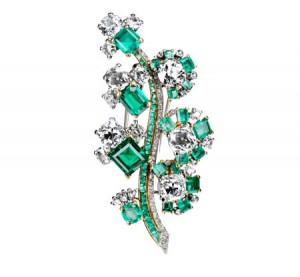 At least once a month I hear about a "score" made by a collector or dealer in the jewelry field.
They've either purchased a gold necklace thought by the seller to be gold plated, or a diamond mistaken for a cubic zirconia.
Believe it or not, this happens all the time.  Some early gold jewelry was not stamped with the carat mark, therefore, it's mistaken for costume jewelry.  The same can be said for early miners cut diamonds, as they are not the same look as the round brilliant diamonds we know today.
What are some steps you can take to ensure you don't end up giving away your family heirlooms?
First, if you think it might be something, yet it is not marked, take it to your local jeweler. They can quickly tell you a) if it's gold or platinum and b) if the stones are authentic.
If you find that your jewelry is fine, and not costume, you might then ask the jeweler to tell you more about the stones used.  If they are diamonds, what can they tell you about the size, color and clarity.  If the diamond is not over a carat, you should enjoy the piece, or pass it down to the next generation.  If it is over a carat in size, you might spend some time on Mondera.com to research the current retail value of your stone.
What if you have more than one item?  I highly suggest locating a jewelry appraiser in your area.  You can find one by visiting The National Association of Jewelry Appraisers at:
http://www.najaappraisers.com/
Once you've determined what you have and what it's worth, how do you go about selling it?  There are a few options to choose from:
Try your hand at selling it locally by listing it on Craigslist.org  – This site is free, and you can upload multiple photos and a great description.  I suggest having the buyer meet you in a public place, not your home.
Consign it to auction.  There are numerous auction houses across the nation that have quarterly jewelry sales. Their specialists know how to properly market your items to maximize their selling potential.
If you don't want to try to locate a collector for your goods, you can always sell them to a jewelry dealer.  You'll have to take a lesser price for your items, but there are always plenty of jewelry dealers looking for inventory.
On a final note, if your jewelry turns out to be costume you should still do some homework. Some costume jewelry makers wares can command hundreds to thousands of dollars.  You just never know when you might have a gem!
Recognized 20th Century Decorative Arts Expert and Appraiser.  As seen on CBS "The Early Show" and NBC's "The Art of Collecting". Haines has written numerous articles and books on collecting. Her most recent pubication is "Collecting Wristwatches" for Krause Publications which comes out April 2010.  Reyne is a frequent appraiser on PBS Antiques Roadshow.