Collecting Vintage Barware – Reyne Haines
December 4th, 2009 by
admin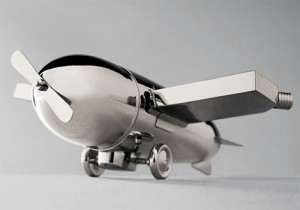 To many, "shaken, not stirred" summons memories of Sean Connery, European models and exotic beaches. To collectors of antique barware, it means a whole lot more.
Vintage barware is a hot collecting field. Collectors comb antique shops and flea markets looking high and low for the next piece to add to their collection. Some enthusiasts covet certain makers, while others search for certain designs. Barware also comes in a variety of mediums such as chrome, silver, glass, plastic—and even wood. With such a broad array of merchandise to collect, it offers price points to fit any budget.
Cocktail hour has been a favorite pastime for many years—long before HBO's Sex and the City made the Cosmopolitan chic, again. Martinis first came into fashion in the 1920s, and though the shaken martini is the signature of 007, the martini shaker was in fact invented in America (and perhaps the martini, too). Shakers not only came in numerous mediums, but they also began to take fanciful shapes beyond the standard shaker concept. Before long, cocktail shakers appeared in the form of bowling pins, penguins, airplanes, skyscrapers and other icons from the era.
Of course, you can't have shakers without accoutrements: swizzle sticks, corkscrews, cocktail trays, ice buckets, martini glasses…
There are national collectors clubs for bar ware enthusiasts, online discussion groups and dealers that specialize in nothing else. You can find examples from years-gone-by in private collections, and also in important museums such as the Metropolitan Museum of Modern Art. There are books dedicated to the subject and auction houses offering some of the rarest pieces.
Should you decide this collectible is for you, a few things to consider:
Look for mint condition pieces only. If the chrome has tarnished, leave it behind. Don't accept chipped plastic handles or knobs… and certainly walk past cracked glassware.
If a piece is missing a lid, a knob, or a partner piece, you should wait for a complete set. Finding the missing part is often hopeless.
These items are usually not dishwasher or microwave safe. Washing by hand and towel drying is the best way to maintain your vintage barware.
There are numerous reference books on collecting barware at our local bookstore. I highly suggest buying one. This will give you an idea of who made it and when—and if there are reproductions that can fool you, and how to spot them. Most books come with price guides to give you an idea of what to pay.
Collectible barware also makes a great gift for that special someone in your life, or a soon-to-be bride and groom. Not only do they make great conversation pieces, but they also offer function.
Cheers!