June 15th, 2011 by
admin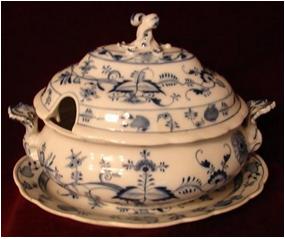 Blue Onion is a popular china pattern that has been in use for hundreds of years, but did you know it was originally not an onion at all? European craftsmen in Meissen (outside of Dresden in Germany) interpreted the unidentifiable peaches and other fruit from older Chinese patterns. Before it was called the onion pattern, it was originally named the bulb pattern. The early patterns first produced were closely modeled by the Chinese in 1740. Blue Onion china was made into plates and bowls in the Meissen Factory that had a feel of one of a kind.  One of the early examples of this was the blue and white porcelains of the early, powerful Ming Dynasty in 1420. The colorful flowers and fruits pictured on the original Chinese pattern were unknown to the Meissen painters. Therefore, they created hybrids that were more familiar to Europeans.
The Blue Onion design most likely originated from an east Asian model, specifically Chinese. Its artistic style also demonstrates that Blue Onion derives also from European influence. The Blue Onion creative pattern was designed as a white ware decorated with cobalt blue. Some rare dishes have a green, red, pink, or black pattern instead of the more common cobalt blue. A very rare type is called red bud, because there are red accents on the blue-and-white dishes. Porcelain found in Europe with the onion pattern is manufactured in Czech Republic by the famous stock company Czech Porcelain.
A highly rare blue onion antique listed on antiques.com is the Meissen Blue Onion soup tureen that includes an under plate. This primitive antique is from 1920. In the images below, you will see the mark of Meissen printed out and this denotes a 20th century manufacture of this very popular Blue Onion pattern. This distinguished mark of the crossed swords dates back to circa 1800. The under plate measures 15″ X 10″ and the tureen is 16″ from handle to handle and the height of the tureen to the top of the finial on the cover is 10 1/2″. The opening of the tureen is 11″ X 8 3/4″. The antique is in relatively in good condition with the exceptions of a few scratches. No restoration is currently needed. This Blue Onion antique is a real collector's treat as tureens with under plates are rare to find, even in 20th century manufacture. The opening on the cover is for a ladle. We have a non matching white ladle that we will include in the purchase of this tureen. This exquisite antique is a collector's dream and will not disappoint!