Another Miracle at the Marburger Farm Antique Show in Round Top, Texas
October 10th, 2011 by
admin

10.10.11 Round Top, TX— Marburger Farm has done it again. The twice yearly mega-show in Round Top, Texas has overcome hurricanes, wars, recessions and more. This Sept. 27–Oct. 1, the prospects included all of those, plus the tail end of the driest, hottest Texas summer in decades. But the not-so-little show that could pulled off a winner again.
After two hot days, about noon on Thursday, a clap of thunder sounded. "In our tent," said Patrick Kenny of upstate NY's South Porch Antiques, "with each clap of thunder, people clapped back. When the rain started to pour, they cheered and yehawed, as only Texans can yehaw. At Brimfield, we cried over rain. At Marburger Farm, they were cheering in the aisles."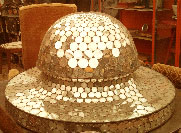 As the rain continued, someone turned up the volume on "Amazing Grace" and shoppers found that the 10 football field size tents and 12 historic buildings on Marburger's 43 acre site provided perfect cover for shopping over 350 exhibitors from 38 states and several nations. Kenny sold gilded frames, a pair of nine-foot tall glass doors from an 1890 Pennsylvania building and a three foot wide mirrored ballroom ceiling disc from a 1920s Catskill resort. Like many antiques sold at Marburger Farm, that piece will travel further west to a Seattle shop.
West coast wholesale buyers dominated the opening days. "In spite of the heat early on, the designers and store buyers were here," said Julie Harris of Kansas City, MO. "The first two days were strong selling days for me." Harris sold, antique trunks and silver sporting trophies, many of them going west.
Most exhibitors reported good to utterly outstanding sales, with many setting career records. "Our closing day on Saturday, was the highest we've ever had," said Rhonda Holden of 2 Girl's Stuff from Dallas. Holden sold six rugs, Spanish Colonial iron and antique bottles topped with industrial gauges for use as bookends and sculpture.
Another Texas dealer, Ray Veazey of San Antonio, had shoppers fighting over a French canopy bed and huge metal leaves from a 1980s Neiman Marcus display by Emilia Castillo. "Of the 29 Marburger shows that we have done," said Veazey, "this was our top 3rd in gross sales. The shoppers who come to Marburger Farm are real troopers. I'm really thankful that they came."
Studio F's Kara Fogertey of St. Louis MO and Mike Whittemore of Punta Gorda, FL had their best show ever. They sold eight mirrors, eight pieces of upholstered furniture, an 18th c. carved English bookcase and every zinc-topped table they brought. "We save stuff for six months just for Marburger," said Whittemore. "and then we price things right for the market. Instead of getting that extra 10-20%, we do it in volume at Marburger Farm."
Danny Martin of L'Antiquario Antique Tiles from Miami Beach, FL reflected, "In spite of everything, it was one of the best shows we've ever had anywhere—really up there." Martin sold a large trumeau fireplace surround with faux marbling, a French leather tri-fold door to be used as a headboard and thousands of reclaimed antique floor tiles from European buildings. Colleen Martin reported that "Some people were into architecturals because they are renovating and others because the building market is coming back. We have about 30 homes to follow up with antique tiles because of this show. Marburger Farm did not disappoint."
First-time Marburger exhibitor John Tuttle of Atlanta's ReWorks summed it up: "Everything I had ever heard about Marburger Farm was true. There is more great merchandise and more talent at Marburger Farm than at any show I have ever seen." Tuttle brought talent in tow by creating 150 lamps from re-purposed antiques such as old boot forms, hubcaps, musical instruments and architectural fragments. "Just one store buyer bought 18, another bought 14, all going to NM, AZ, CA and other western states."
"Marburger Farm has evolved into a national and international crossroads for antiques and for talent," says show co-owner Rick McConn. "We had our highest international and national attendance. One shopper kept texting photos of merchandise at the show to a niece in Hope, AR. A text returned: 'Where is the nearest airport?' With a private plane and a local airport, she was here shopping that very afternoon. And she fit it all into the plane, except for two carved eagles that had to be shipped. Hope springs eternal."
Co-owner Ashley Ferguson believes that one reason this show was so compelling for shoppers was the introduction of a special contract requiring all merchandise to be antique, vintage pre-1989 or re-purposed from antique pieces. "You don't have to paw through piles of reproductions at Marburger Farm," says Ferguson. "We had the show vetted by an appraiser from the "Antiques Roadshow" and he pronounced us 'a clean show.' Marburger dealers search all over the world for the antique, vintage and re-purposed pieces that bring authenticity into a home—and that makes a difference."
The show also made a difference by hosting a benefit booth for the Houston affiliate of Susan G. Komen for the Cure, as well as for the Brookwood Community, a Texas non-profit group that empowers adults with special needs. Additionally, a portion of the show's ticket proceeds benefited Susan G. Komen-Houston to help in the fight against breast cancer.
A similar survivor spirit is one reason that Marburger Farm thrives: Texas shoppers are resilient. Exhibitor Beverly Williams of Warren, TX sold a French cupboard to a woman from Bastrop, TX, scene of recent fires that destroyed over 400 homes. "With her," reports Williams, "were two other women from Bastrop, all next-door neighbors and all had lost their homes in the fire. Here they were at Marburger Farm, shopping to rebuild and to replace antiques that had been handed down in their families. They bought all over the show and I sent them all home with gifts from my booth. It touched my heart to see their spirit."
In that spirit, the Marburger Farm Antique Show invites you, wherever you live, to the April 3-7, 2012 show, deep in the heart of Texas— where the bluebonnets are pretty darn resilient too.
The Spring Marburger Farm Antique Show opens Tuesday April 3 for Early Buying Admission from 10 am until 2 pm. Regular admission begins at 2 pm until 5 pm that day. Admission is good all week and parking is free. Shopping continues on Wednesday, Thursday and Friday from 9 am until 5 pm and on Saturday, April 7, from 9 am until 4 pm. For maps, photos, the show blog and information on tickets, groups, the Marburger Café, on-site shipping and special events, see www.roundtop-marburger.com