Picking with Reyne Vol. 23 – An Interview with Martin Willis – Part II
October 22nd, 2010 by
admin
So, last week I left you hanging when I asked Martin the question:
What strategies to buy at auction would you give to the novice?
Here is Part II of my interview….
Martin: It is a tough question, but I will try and answer the best I can.
First of all, the novice should know most of us, if not all in the business have learned from our mistakes. I have a few mistakes kicking around in my house as a matter of fact. The best advice is not to look at buying at auction in an adversarial mode. I always hear this gem told to the novice: "find out who the antique dealers are and bid one bid higher than them." That has to do with retail mark-up and what you can buy it for. However, this is not fool proof. There are many ways to make mistakes here. First of all, there is no way of telling if the dealer has a desperate client willing to pay too much for something, or if the dealer is buying for their own collection. I have seen dealers pay extraordinary prices for something they collect.
The best strategy I can think of for a novice is again, use patience coupled with perseverance. Go to auctions, watch what happens, and get yourself familiar with what things sell for. Watch how people bid, and what they bid on. Make notes if you have to. If you only spend $100, then the most you can lose is $100.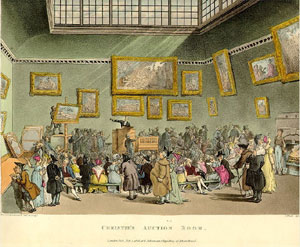 My suggestions for the "Do's & Don'ts" for the novice at auction are:
1.     Again, do not bid on something you have not inspected. Auctioneers do not want to take items back and often will not take them back (unless accidently misrepresented)
2.     Try not to be the first bidder on an item.
3.     Do not keep your card up while bidding (known as the Statue of Liberty Bid). Along those lines, when bidding, don't look too excited about bidding and use your best poker face.
4.     Do not buy something just because it is a deal. You may be buying something no one else is too excited about. If you may have to live with it, make sure you like it.
5.     If you see a particular piece at an auction that you think you would like to own and time permitting, research it. Take the catalog description home with you and explore the piece on the Internet. Or, ask advice from a dealer, often times, they will help you.
6.     Do not ask other people not to bid on something you want, people often take offense to you asking them. Also, it could be considered collusive. Along those lines, do not tell other people at the auction what you are interested in.
7.     Don't be afraid of the auctioneer. Ask questions at the preview on what he or she and or the staff may know about a particular piece you may be interested in.
All great tips Martin!
Reyne:  So would these tips apply to online bidders? Or would you have any strategies for the online bidder?
Martin: Another tough question. It is always best to be there in person for
a dozen reasons. However, online bidding has come a long way.
Here is what I suggest:
1.     Buy at an auction house with a good reputation.
2.     Make sure the condition report is thorough and it is cataloged correctly.
3.     Make sure you understand the conditions of sale, buyer's premium and shipping, etc.
4.     Know that bidding online is not infallible. It has come a long way, but it is always possible your bid will not go through or the auctioneer will move too fast to catch your bid. When I bid online, I just leave an absentee bid of my maximum amount. It is safe way to go and no one knows the amount you leave or who you are. You can just leave your bid and go play golf or something.
Reyne: I can't help but ask… any big hush hush trade secrets we should know?
Martin:   Because I am an auctioneer, I am reluctant to share this, but will anyway. As auctioneers we want to see everything sell at an auction. However, that is fantasy and sometimes 15% of an auction or more may pass for some reason or another. There are a number of people out there that contact an auction house after a sale and ask about the unsold lots. Often, there is a lot of negotiation, as consignors have generally wanted the pieces out of their life. I have heard of many stories of wonderful buys as "after sales".
So you mean to tell me that my first auction in November is not going to have 100% sales ratio?
Thanks so much Martin for sharing your knowledge of auctions, bidding, and the strategies to go along with them.   You rock!