Antiques in Historic Skippack Village
September 30th, 2010 by
admin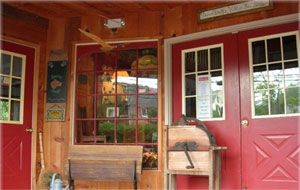 Just outside of Philadelphia, farm country rolls away to the north and west. Small historic villages like Skippack, which lies between Blue Bell and Collegeville, have provided town life for rural eastern Pennsylvania communities for over a hundred years. Skippack is still farmland; drive away from the main road in either direction and you'll find yourself surrounded by corn and vales of pretty red cows. But, the relentless march of new housing is also in evidence, so for every working farm, old stone granary, or dilapidated barn you see from the road, you'll also find new cul-de-sacs occupied by young families and Philadelphia commuters.
Like the best antiques destinations, Skippack is a perfect combination of the cherished old and the whimsical new. Between the antique shops (and there are plenty of them), you'll find no lack of craft stores, shops selling garden and interior decorations, and lovely little street side cafes where those out for an autumn stroll can enjoy a cinnamon latte and rest their feet for a while.
If you drive down Skippack Pike (route 73) from Philadelphia toward Skippack you'll find yourself passing first through the tiny village of Cedars.  The distinguishing edifice in Cedars is the Cedar's Antiques Emporium, a beautiful converted old barn (the restored barn alone is worth a look) with a crowing rooster painted on the side.
The emporium is a co-op which opened recently and is still in search of dealers. Case and booth rentals are available (call 610-584-1885 for details—no crafts) but the space appears to be filling quickly. The established dealers offer books, artwork, nautical items and furniture. One piece I had a hard time walking away from: an optometrist's desk. It's something like a roll-top secretary but flatter, since it's designed not for work but to display pairs of glasses. I was charmed.
Keep driving through Cedars and you'll reach the intersection of Skippack pike and Store Road. Here you can find a place to leave the car behind (there are plenty) and stroll. There are several worthy antiques shops here including Snyder Antiques and Remains to Be Seen, a friendly cluttered little place with odd hours.  But two of these in particular are not to be missed, for different reasons.
First: Green Wolf's Village Barn. The name is poetic, and the store is one of the most pleasant antique shops I've entered in years. Owned by Harry and Sylvia Wolf, the shop occupies an airy and beautifully lit barn-like space with a woodworking studio below and loft above. The barn is filled floor to ceiling with Rosebud-style sleds, farmhouse chairs, And Sylvia's collection of antique washing machines (she calls them "gifts from loving husbands"). A back room displays furniture built from the wood of old barns and bookshelves made from the pipes from an antique pipe organ. The Cardinal Hollow Winery leases space in the building for a tasting room—you walk past the old farm supplies to get to where the wine is.
The second shop of note in Skippack is almost an institution here. It's called Thorpe Antiques, and it's designed less for casual strollers and more for people who are serious about antiques. If you love old things, love being left alone among old things in quiet old rooms in old buildings, and if you like ticking grandfather clocks and friendly cats—which I know I do—this is your place to browse. The store reminded me of my grandparents' house (as good antiques shops often do).  Thorpe's specializes in clock repair, but Thorpe senior, known as the Doll Doctor, made a name for himself in doll triage and doll-sized furniture. His son clarifies the distinction between himself and his father, but also seems to know a thing or two about antique dolls and toys, which are displayed in a separate room from the furniture and clocks.
If you're looking for specific items, come to Skippack village for country antiques, farm implements, farmhouse furniture and antique hunting supplies, like guns and decoys. Art is a notable item here as well—Currier and Ives prints, Victoriana, and nautical sketches abound. Most antiques in the village appear local to Pennsylvania and the Philadelphia area, so you may find tea tables and Windsor chairs if you're lucky. But it's also worth a trip to Skippack just to roam past the charming store fronts, watch the leaves turn and feel the October chill in the air.
By Erin Sweeney
for Antiques.com